Southwest spirit continues to develop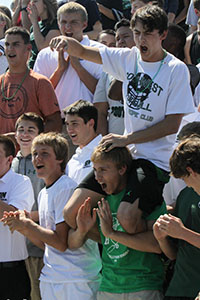 The crowd cheers on senior Alexander Hintz as he dribbles the ball around three defenders towards the goal. At Bishop Miege, for the first boys soccer game of the season, a group of 20 students made the 30-minute drive to come and support the team.
"The fans give me an extra push," Hintz said. "It pushes me more to play better and want to score for them."
Students definitely have built up the school spirit since the inaugural year, but there is still work to be done. From the crazy spirit day outfits, to the crammed student section at football games we have made so much progress and we can't just stop here. The Southwest student population is growing, and so is its spirit. This spirit is vital to the developing unity of the student body.
"I think we have come a long way in the last three years," senior Emma Stewart said. "It definitely showed in our first assembly, but I think we still have a long ways to go."
Spirit can be promoted through three primary things: assemblies, spirit days and attending school activities. These things are created in order to bring us together and promote the school.
Assemblies are a time created specifically to pump up the school and get excited. Not only do students get the benefit of shorter class schedules, but they get to have a time where it's actually encouraged to cheer and be loud in school. Since we get the luxury of having assemblies at the end of the day, some use that as an opportunity to go home and enjoy some extra free time. It may not seem like it but participation in assemblies greatly affects the way students carry the pride of the school.
"I hope to see a lot of the freshmen step up and get into pep assemblies and football games this year," junior Jack Rose said. "There's so many of them that they have the potential to boost us up and make so much noise."
Our school consists of many different clothing styles, but spirit week is a week dedicated to putting away differences and dressing in unity.  Spirit days create a fun and lighthearted atmosphere. Some students may think that going all out during spirit days make you look dumb or overdressed. If you have fun with it, it'll turn out great and generate confidence within the enitre school.
"I think spirit day is a day where the entire student body pulls together," Assistant Principal Richard Bechard said. "We have to make sure that the themes are tasteful and doesn't take away from the learning environment. I think that this year's spirit days are great and will bring us together like it's supposed to."
The biggest form of spirit is supporting the activities that students participate in. Students who participate in school activities represent Southwest, which goes to represent the whole student body.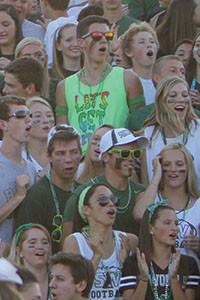 Having the support of other students encourages participants in activities to do better. It reminds them who they're playing for and excites them to know that people care about what they're doing.
Hintz is a foreign exchange student from Germany, where they don't have activities for their school.
"It's cool to hear them[the fans] screaming the school name," Hintz said. "In Germany, we don't play for a school and there isn't cheerleaders, it's only parents. I like it way better with a crowd in the stands."
Other Blue Valley schools argue that we aren't as spirited as them which could lessen our pride. Recently, the Twitter world has heated up with debates on the best schools in Blue Valley. Students from Blue Valley West continue to make remarks on how they're the best school and Southwest is lacking spirit and pride.
"I truly think that the fights on Twitter don't have a winner or loser," Blue Valley West junior David Pickett said. "You could never convince someone that the school they go to isn't as good as they think in only 140 characters."
With this being our fourth year open, we're forming our own personality and coming out of the developing stages. It takes time to create traditions and great spirit and we are continuously improving. We may be called "unspirited" by other schools, but we should use that as motivation to prove them wrong.
"I think the hatred will fade once Southwest stops being recognized as the new school of Blue Valley," Pickett said. "You have to earn your share here. Before Southwest was the prime target, it was West; so, it'll eventually die down for you guys."
This is our fourth year, and we are coming out of our shell. It's time to prove to everyone what we are made of. We have made so much progress and there's so much more we can do. We will no longer be the Southwest student body, we are the Southwest family.
"I believe that the other Blue Valley Schools have really started to notice us," Bechard said. " The students here have grown through the Southwest way and have really committed to our school. I really sense a pride from almost every student for Southwest that transfers into positive spirit."
Leave a Comment
About the Contributors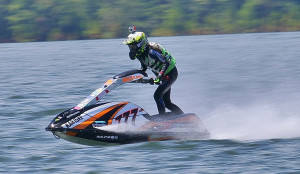 Anna Glennon, Photo Editor
My name is Anna Glennon and I am one of the seniors that are on staff this year. This is my second year as a photo editor for the Standard.

I don't...