District implements new community service guidelines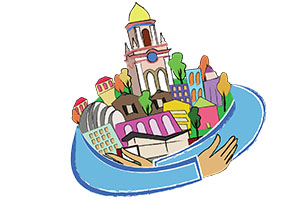 A student logs onto the free Presidential Volunteer Service Award website and enters a total of 250 hours of service completed. The certificate and pin for a gold award arrive in the mail, but the only amount of time that the student had spent toward that logged service was the ten minutes it had taken to submit the hours. There is no way to monitor that the student had actually volunteered for that many hours; the only sense of reliability is the honor system.
The Presidential Community Service Award is a national award which honors the number of hours dedicated to service. The award honors citizens on bronze, silver and gold levels by the amount of community service they have logged. High school students benefit from achieving the Presidential Community Service Award as it is noted on college transcripts.
The district created community service guidelines in order to verify that students who logged community service hours are actually spending their time to help the community. Without that, students would take advantage of the lack of enforcement to unjustly be awarded for something that they didn't do.
"The right community service should be about helping others and the intensive reward you gain from that experience," activities director Todd Dain said. "Unfortunately, when community service is part of a college application, it becomes this element of competition, so what is created is a culture where students are performing community service hours for the wrong reasons."
On Aug. 28, the district implemented a new set of guidelines that established what should count as community service to create consistency among the schools. Prior to the new guidelines, all five high schools in the district had differing policies causing unfair advantages in receiving community service acknowledgment between different schools. Parents brought it to the district administrators' attention that students were being treated differently; thus, the five community service sponsors met together at the end of April to create a new set of rules.
"I think that students will gain from the consistency piece," Executive Director of School Administration Tony Lake said. "Whether you think it's a good guideline or not, at least you know that everybody is being counted on with the same guidelines. If I do this, I'm going to get credit for it. Nobody is doing other things in other schools and getting credit for it and getting more hours than I would get. So that's the benefit -— the consistency piece."
With the new guidelines becoming more similar to the policies of other schools, Southwest students have noticed some drastic changes in the hours that count. The new guidelines no longer allow organizations like the theatre department and Student Council (StuCo) to count activities like building stagecraft or setting up for the annual homecoming dance for hours toward the Presidential Community Service Award.
Senior Alex Ghekas, StuCo president, found that it was unjust to not count the events that student council puts on as community service. So, Ghekas decided to stand up for his club and wrote a letter to the administration giving reason for it to be credited for community service. In his letter, Ghekas included points that "the students involved are making a large sacrifice to put on a dance that raises money for other school activities" and that "student council fills critical roles for the school that wouldn't be filled without student council."
"I just think that the hours for clubs like student council should count — I have personal interest in it," Ghekas said. "I also want to watch out for the people in the activity that I'm a leader for, and I think it's my responsibility to get the hours to count that I think should count."
Other clubs, like Spanish National Honor Society (SNHS), rely heavily on students doing community service and have had difficulties bringing the new guidelines into concordance. In the new set of guidelines, if something is a required event for club members, then those members aren't given community service hours for that event. For example, SNHS's main event as a club is the annual cultural festival; however, club members are unable to get hours for volunteering for it. Likewise, SNHS has had to review some of its community service opportunities to ensure that they fit the guidelines.
"I think that the intent is good because they're trying to ensure we're actually doing community service, but I think some of their nitpicky things makes it difficult for clubs to offer community service the way they have before," SNHS vice president senior Andie Divelbiss said.
Although the service normally done by SNHS or National Honor Society (NHS) might not count toward the Presidential Service Award anymore, hours can still count toward the membership requirements. SNHS and NHS are individual chapters and are able to set their own guidelines apart from the district because the recognition is not counted toward the Presidential Community Service Award.
Currently all hours aren't guaranteed to count toward the Presidential Community Service Award, but Principal Scott Roberts still encourages students to submit all potential hours. Even if hours don't count under the current district guidelines, changes may be made in the near future in which credit would be given for the submitted hours.
District administrators assure that this is still a document under revision. The current guidelines were set only to create uniformity throughout the five schools, but now administrators hope to make sure that this is how the community as a whole wants to define community service.
"The goal is that we have a document that everybody is comfortable with and that it truly meets what we, as a community, believe as to what community service is about and the purpose of it," Lake said. "We really encourage our kids to get involved outside of the classroom and give back. We have lots of resources and things that we can provide and give and to build that within our school communities is pretty important."
The student activities committee, with student, parent and administrator input, will work toward necessary revisions in the guidelines to ensure that the whole district is in agreement of what community service entails. Nonetheless, students still recognize the personal benefits in doing community service, despite the reward of hours.
"I think community service is providing assistance, in terms of time and/or labor, to someone that needs it," Divelbiss said. "I do it to give back, and honestly, it makes me feel better than the people that I'm doing it for — like going on missions trips and participating in the blood drive has really made me appreciate what I have and that I have the ability to give back."