Teachers share other sides of their lives
Jerry Holtorf
As Gerard Way once said, "All the best heroes are ordinary people who make themselves extraordinary." Math teacher Jerry Holtorf said he has found a way to make the best out of the unfavorable odds he was dealt.
"My parents were diagnosed with cancer and my mom died almost four years ago and that's when [my volunteering] really started," Holtorf said. "In the hospital, being able to see what my parents at 60 and 70 years old were going though and there was a 6- or 7-year-old in the next room going through it too, that really, really hurt."
With a newfound and personal perspective on cancer and its impact on those battling it, Holtorf said he wanted to find a way he could help.
"About four years ago, I started looking into volunteering as a way to give back and fight children's cancer because I couldn't do it financially, so I decided to something I could do, which was just visit hospitals," Holtorf said.
Holtorf said he has visited a handful of hospitals including Children's Mercy, the downtown and Overland Park locations, KU Medical Center, as well as volunteered at various fundraisers, 5Ks and other events. However, with a Captain America suit and a posse of other superhero friends, Holtorf's hospital visits are anything but ordinary.
"I actually have a connection at Marvel Studios," Holtorf said. "At Disney / Marvel there's a seamstress there who works in the costuming department that I was put in touch with and she has access to the actual designs and she made [my Captain America suit] to specification."
Holtorf said he enjoys what he does and it's a good experience, however he said not every day is a good one.
"Every visit day is a lesson and also very much not the funnest day," Holtorf said. "You see smiles, which is incredible, but you also see the circumstances, which is painful. It can be a good day and a bad day."
Even though not every moment is particularly preferable, Holtorf said that doesn't stop him. At the end of the day, Holtorf said volunteering is something everyone should do because it heals the volunteer and the ones at the other end.
"Life is a pile of good things and bad things and the good things don't necessarily cancel out the bad things," Holtorf said. "Likewise, the bad things don't make good things unimportant, so you keep doing them."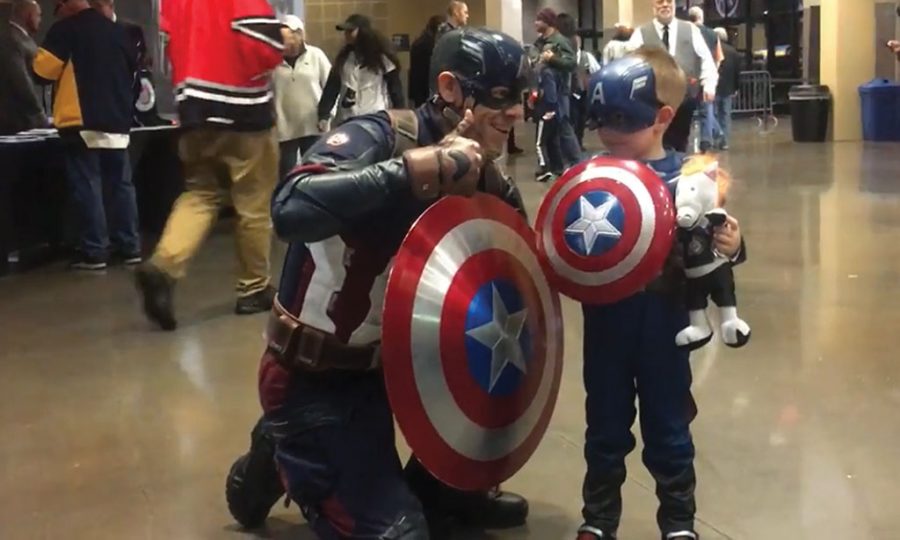 Storm Shaw
One might suspect that an English teacher would have spent most of their youth reading, nose-deep in a good book; however, starting from a young age, English teacher Storm Shaw said he grew up alongside music.
"I started playing music in elementary school, playing euphonium," Shaw said. "In middle school, my friends and I would make 'bands' — heavy on the air quotes — where we would basically take a bunch of pictures and come up with band names and never write any music."
Once his middle school band phase came to an end, Shaw joined another band with a couple of his friends.
"I got a call from friends who actually had a band together and they asked me to come play with them," Shaw said. "It was this terrible screamo band called Your Altered Reflection; the name was very bad."
Shaw said he played with Your Altered Reflection for around a year and then, at age 17, joined another group of his friends who were "better musicians" in another band. Contrary to his previous band experience, his second band was named Coronado Left For Dead — a name he said he enjoyed.
"The second band I was in, we were originally called Coronado Left For Dead, and we came up with that basically because we were obsessed with this band from Alabama called Maylene and the Sons of Disaster, and they got that name because of this story of a family from Alabama," Shaw said.
Looking to Maylene and the Sons of Disaster as a muse or for inspiration, Shaw said his band wanted a name related to the state of Kansas.
"We wanted to have a story personal to Kansas and there was a town in Western Kansas, I think this was back in the early 1800s, called Coronado," Shaw said. "It was nearby another town and they were fighting over who would be the county seat and who would get funding from the government and so a bunch of guys from the neighboring town went over and shot up Coronado and basically made it a ghost town. It was just a 'Welcome to Coronado' sign and then nothing else."
With the historical story came the band name Coronado Left for Dead, which was eventually shortened to Coronado after the band decided the "left for dead" aspect was a little too "emo." As for musical genre, Shaw said his band made its own miscellaneous category.
"We got away from the Southern vibes and we got more into hardcore or a little bit of punk influence, kind of a sub-genre of music that we would call 'mathcore' which was really technical rhythms but with simple vocals over them and kind of repetitive," Shaw said.
As part of the band, Shaw's role was to write lyrics and do the vocals in each song. Although, in his band's genre of music, vocals are synonymous with screaming, Shaw said there is still technique behind it.
"Believe it or not, even with just screaming, if you just scream randomly then it sounds terrible, so trying to come up with interesting rhythms and if you can vary your pitch of screaming somewhat, [you can craft] the vocal aspect of it," Shaw said.
Although music has always been a large aspect of Shaw's life, he said there are some aspects of the music industry, specifically touring, that weren't always easy.
"You go from town to town, and people don't know you, and you play a lot of shows that very few people come to, and you're just tired and dirty and have no money," Shaw said. "That was hard, still enjoyable in some ways, but yeah, good and bad."
Overall, Shaw said his time spent creating music, while difficult and not always beneficial, was something he was passionate about and would do again.
"Being in a band means the ability to be creative, to put in work for something you're passionate about: self expression," Shaw said.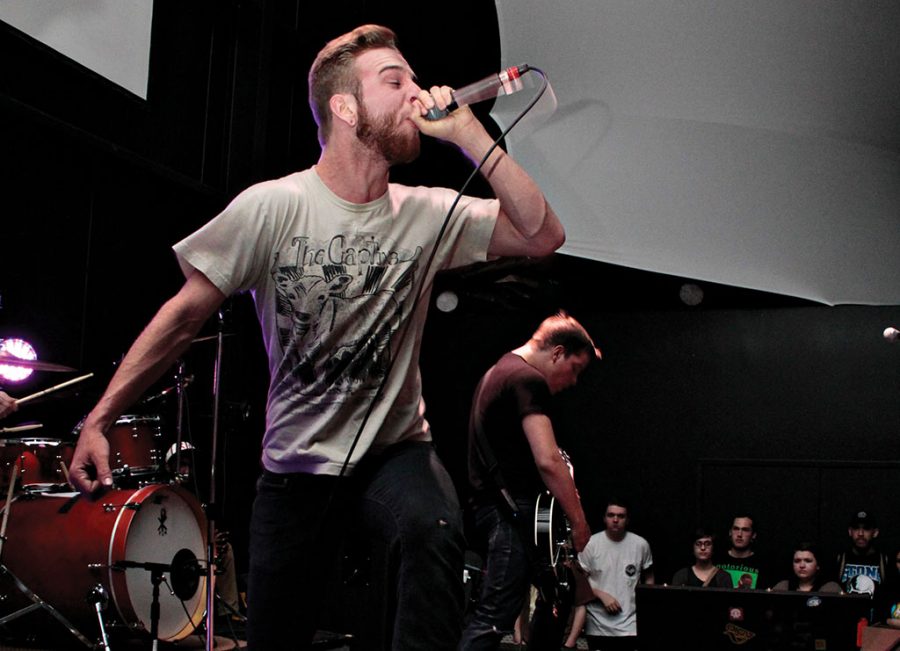 Caitlyn Donahue
Not unlike her father, English teacher Caitlyn Donahue spent most of her youth and young adulthood playing volleyball and going to "various volleyball open gyms and tournaments within the Kansas City area."
"I started playing club volleyball when I was 8," Donahue said. "I stopped playing volleyball professionally when I was 25. I still compete at adult volleyball tournaments here in the United States about once or twice a year."
Donahue said her volleyball career started with her dad. He was her first coach, took her to her first tryouts, taught her to set, serve, pepper, etc.
"For most of my club years, my dad was my coach," Donahue said. "Although there were times when I wished he was not the one coaching me, I can look back now and remember fondly the opportunities that club volleyball gave us to spend time together."
Donahue went to high school at Blue Valley West, and as her high school volleyball career took off, she was recognized for many different awards. Donahue was named Class 6A Player of the Year and Class 6A First Team All-State three years in a row and Kansas Gatorade Player of the Year in 2008, among other individual and team recognitions. With recognition came lots of offers to play Division I volleyball in college and praise from coaches. Donahue ultimately chose Kansas State University because of Suzie Fritz, the volleyball coach, and Fritz's interest in growth instead of praise.
"Suzie told me that I was a 'good volleyball player' but that she would make me better and that I would need to get better if I wanted to play Big XII volleyball," Donahue said. "Although her statement caught me off guard, her honesty was refreshing."
Not only did K-State mean working hard, but Donahue said it meant her dad could watch her play, which was really important to her. In her 13 years of playing volleyball, Donahue had the opportunity to play all over the world on various levels of difficulty, ranging from club volleyball to the professional level. In the professional level alone, Donahue played in Puerto Rico, France, Switzerland and California for Team USA.
"Competing with some of the best players in the world day in and out was nothing short of incredible," Donahue said. "My time with the national team was the most challenging, yet one of the most rewarding, experiences of my life so far."
Although Donahue loved playing volleyball and it was a "rewarding experience," the distance it put between her and the rest of her life took its toll.
"It became difficult to spend nine months out of the year living in other countries," Donahue said. "I missed out on a lot of time with my family and friends. Additionally, I always knew I wanted to be a high school teacher, and after my third year of playing professionally, I was ready to come back to the United States and begin my teaching career."
Donahue was not only a player, but she tried her hand at coaching as well.
"Pizza Hut aimed to create a rivalry between Kansas and Missouri to see which state would receive 'Kansas City bragging rights,'" Donahue said. "I was hired to represent and coach a group of young volleyball talent from Kansas, and my friend and former rival, Molly Kreklow (University of Missouri volleyball), was hired to represent and coach a group of young volleyball talent from Missouri. The two teams played a match called The Pizza Hut State Line Showdown, and my team won."
Overall, while there were times where Donahue said volleyball was difficult to stick with, it has had a lasting impression on her life.
"The sport of volleyball has taught me how to work with people from various backgrounds and how to deal with and overcome adversity," Donahue said.