Construction zones cause students roadwork rage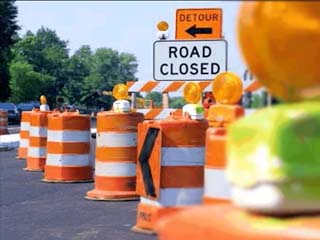 Over the past few months, the roadwork around Overland Park has been frustrating for drivers on a time schedule.  Roads have been closed, causing drivers to take alternate routes and, in turn, backing up roads and creating more road rage than ever before. Although the road work will pay off for us in the end, for now the constant construction is stressful.
The reason for the roadwork is to widen the roads. Right now, the roads are narrow and there are multiple potholes indented in them. This can cause unsafe driving conditions, especially for people in a rush. Since our school year has started there has been multiple car accidents around the school. Many of the accidents involved a student driver. Sophomore Zane Harvell was running late and he was on his way to Southwest when his car rolled over and was totaled.
"I'm very blessed to not be hurt and have the great friends that I do," Harvell said. "Thank you so much to everyone for being there for me."
The accident could have been prevented if the road was wider and had a shoulder. That is what construction is trying to fix. However, most roads are just now starting to fix these issues. It doesn't make sense time wise considering there's more traffic on Quivira and Switzer during the school year than there is during summer. If the city would have decided on construction prior to the school year or even started working at the end of last year, the construction would be over with, or close to over with, and it wouldn't be such a hassle to get to school.
Other students have gotten into smaller accidents such as fender benders due to the traffic backup. Junior Alisha Nguyen got into a fender bender on her way to school. Getting into an accident, no matter how small, can affect more than just their car.
"Even though it was just a fender bender, my car had a lot of damage," Nguyen said. "I didn't have my car for a couple weeks so it made it difficult to get to school because my parents couldn't take me. I had to find rides to places and if I couldn't find one in time, I couldn't make it to the activity."
The construction is scheduled to end soon however, it can't come soon enough for students on a time schedule.
"I have to find alternate ways to get places and that's so frustrating," sophomore Joann Armstrong said. "I can see the place I want to get to from the road construction signs but instead of taking that road directly to the place I have to take a detour that can sometimes double the time."