Students explore summer events throughout Kansas City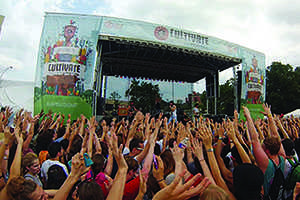 Kansas may not offer its residents a beach with an ocean view, but many students took advantage of the various events that Kansas City offered throughout the summer. From free concerts to 5K runs, the city was a home to events that anybody could enjoy. A small number of the events highlighted by students included First Fridays, Porchfest, Red White and Boom, The Color Run and Chipotle Cultivate Festival.
First Fridays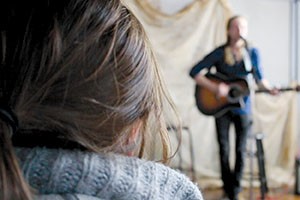 On the first Friday of every month, the sidewalks of the Crossroads District in downtown Kansas City sprout with residents and visitors for one of the city's liveliest events. First Friday starts at 5 p.m. each month and features a variety of artists in art galleries, businesses or on the street. Likewise, many different food trucks provide food options and the sidewalks line with live entertainments ranging from musicians to aerial performances.
Senior Stephanie Kealey attended First Friday in June, and as an artist herself, she was inspired by the event. Kealy finds an "unsaid comfort" in the event as it "revives the passion."
"On First Fridays, you are reminded that people do care about the creations you've made and that everyone's art is important and inspiring to each of those who see it," Kealy said. "It's a night to embrace the artists. The ones who said, 'screw it, I might not make it wealthy, but I'll make it happily.' Those are the people who inspire me and remind the community that life isn't just about the left side of the brain, [but] the relations made and impressions left are what make the greatest of differences."
Red White and Boom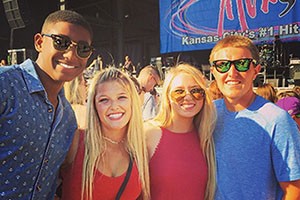 Mix 93.3 hosts a summer music festival every year called Red White and Boom to showcase upcoming artists and attract fans of popular artists to the show. This year's lineup consisted of big name artists such as Tori Kelly, Flo Rida, MKTO, Tech N9ne, Cody Simpson and Andy Grammer. The Kansas City Star described it as "the weekend's best music in KC."
The star-spangled fest attracted thousands of fans on June 27 at the Crickett Wireless Amphitheater, including juniors Butch Clemons and Matt Nixon.
"This event represented how summer should feel every day," Nixon said. "The excitement from the crowd and the energy of the performers made it a night to remember. Although it was a long and hot concert, the outstanding performances made the time fly by."
The festival lasted approximately six hours and many who attended didn't return home till 3 or 4 a.m.
"My phone died before the concert ended which threw my mom into a panic when I walked through the front door at 4:30 a.m.," Clemmons said. "But once I told her about the concert and my experiences, she cooled down a little bit. One thing about that night I will never forget was when [Nixon] and I got to meet Flo Rida, a famous rapper. We were both huge fans and it felt like a dream come true talking with him. That experience definitely made up for the exhaustion that followed me the next day."
The Color Run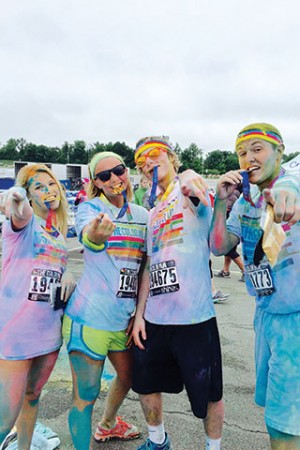 Founded in March 2011, The Color Run has significantly expanded its horizons to more than 300 events in over 50 different countries. People from all over the world partake in this one-of-a-kind run. What sets The Color Run apart from other 5ks is its ability to light up the world using color.
Since there is no age limit restricting people from participating in the race, communities of both young and old can come together and celebrate the magic. One of the younger participants included in Kansas City's Color Run was junior Lilly Hall.
"It was a colorful mess," Hall said. "Everyone was laughing and rolling in the colorful dust as we finished the race. I looked around and there was not one person without a huge smile on their face. It was one of those moments that I wish I could experience more often."
Not only did teenagers have positive feedback about the run, but a story collection called "The Color Run: World's most colorful 5K" published by CBS News also had a favorable review.
"The Color Run 5K marathon is less about competition and more about exercise and enjoying a color-infused day," CBS News said. "The event, which is being held in over 30 major cities, includes people of all different speeds, ages, shapes and sizes beginning at the starting line in a white shirt and getting pummeled with colorful dust at each kilometer. If you make it to the finish line, a final explosion of color powder awaits you. Though people can run for charities, this unique marathon encourages all walks of life to exercise."
Porchfest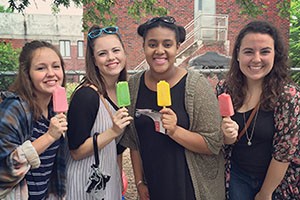 As they endured the soft rain, 104 bands sat on 34 different front porches of homes in the West Plaza neighborhood in Kansas City for Porchfest. Although there are many different Porchfests in other cities, Kansas City started participating in 2014. This year, the bands came from 16 different genres, including country, rock, bluegrass and pop.
The free event lasted from noon to 5 p.m. and aimed to bring together the community and celebrate music. Many local bands performed at Porchfest, including high school musicians Gracie Schram, The Greeting Committee and Tall Tales. Junior Erin Thompson attended the event in order to watch Tall Tales and The Greeting Committee perform.
"I saw The Greeting Committee with maybe 30 or 40 people watching and I was just like 'woah, just some high school kids are actually making a difference,'" Thompson said. "There were some kids that were around 12 years old who were singing along, and some older people were there, too. It was just so cool to see how the music really reached out."
Chipotle Cultivate Festival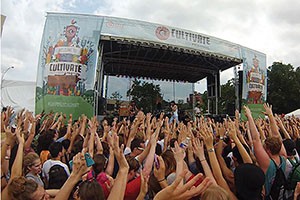 Chipotle started the Chipotle Cultivate festival in Chicago in 2011, and the event made its first debut in Kansas City at Penn Valley Park on July 18. This free event lasted from 11 a.m. to 7 p.m. and featured a combination of live music, art, fresh food and a variety of activities. According to Chipotle's press release from Aug. 2011, the company began hosting Chipotle Cultivate with the "intent of getting people to think and talk about food and food issues."
"This festival is a celebration of many of the things that Chipotle stands for," Chipotle founder Steve Ells said in Chipotle's press release. "We're bringing together farmers, chefs, thought leaders, artisans and musicians on a journey that not only celebrates wholesome food, but that also champions the like-minded people who share our vision to create a better food supply and a more sustainable future."
The event held two different stages: one that spotlighted different professional chefs giving demos and one that featured different musicians. The chef lineup included famous chefs Tim Love, Graham Elliott and Amanda Freitag, and the music lineup included Portugal the Man, Smallpools and St. Lucia.
Chipotle also stationed exclusive featured eats based off of normal Chipotle menu items to purchase, which included barbacoa gorditas, sofritas tacos, chorizo tostadas and Shophouse rice bowls. Likewise, it included a tent of artisanal, regional foods for attendants to sample.
Senior Cole Nelson attended the event to take advantage of the free food and the free music, but as he got there, he realized that there was a lot more to the festival. Chipotle featured multiple areas where people could walk through and learn about the ingredients that Chipotle used in its food and compare it to other fast food restaurants. This included featured videos on how the animals are raised for Chipotle's meats and displays of the artificial and natural ingredients that are used in fast foods. Nelson attended many of the information sessions, and he found them quite applicable to his life.
"I think the event brought people together by providing two things that everyone loves: free food and free music," Nelson said. "But, once I got there, I immediately knew it was much more than that. I ended up learning important information regarding how natural foods are used in the restaurant industry and how we can choose to eat the right way. It definitely changed the way I perceive fast food and the way I eat as a whole.