Singing for the Dream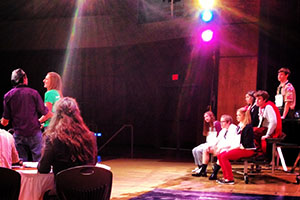 The Dream
The auditorium grew silent, all eyes were fixed on center stage. The pressure is immense, especially when the person in the spotlight has bigger dreams of performing on national television. Every small production, every voice lesson, is all used as preparation for the ultimate goal. Everything counts. This new destiny hardly compares to the old days of belting a favorite song in the shower or singing into a hairbrush and dancing about a room. Freshman Joann Armstrong is one of millions who dedicates their lives to fulfill their passion.
According to NBC's "The Voice," this upcoming season casting directors are estimating over one million send in entries to apply for the show. Joann Armstrong is one of these hopeful millions. Of this amount, only half are considered. The casting directors then narrow the applicants down to 100,000. These select contestants are moved onto the next round and each time they cut up to 75 people. Once they get the contestants down to 100, these select few get the opportunity to actually perform live in front of the judges. [Blake Shelton, Adam Levine, Usher and Shakira.] Being on TV show is Armstrong's dream. This is what she has been working for her whole life.
Growing up
Joann Armstrong started her singing career at her church when she was just six years old.
"I sang for a children's choir," Armstrong said. "Looking back on it, that's where my whole singing career took off."
At age 11, Joann decided to give musical theatre a try. Musical theatre incorporates singing and dancing. She joined the musical theatre company Starlight. She performed in many small children productions when she was younger.
"I remember getting the call from Starlight telling me I made the cut and that I was in the production Red Riding Hood, I was so excited and proud because I got the lead," Armstrong said.
After performing in a few shows, her parents really started to see her growth and the passion for what she does blossom.
"Joann had an incredible voice for an 11 year old," Joann's father Ken Armstrong said. "As her dad, I had always wanted to push her to try a lot of different sports and activities so she would have the opportunity to decide what she liked most and later on be able to excel in that certain activity."
However, Joann knew in her heart that musical theatre would forever be her dream. She played soccer alongside her busy theatre schedule but soon dropped it when she turned 12.
"I always knew Joann would pick music over sports, she was given such an amazing talent and I would never let her pass it up," Joann's mother Celeste Armstrong said.
The Journey
Over Joann's five years in the theatre department, she has been in 14 shows. She performs for Starlight, Theatre In the Park, and for BVSW. This school year, Joann was the only freshman who got a lead in Blue Valley Southwest's "25th Annual Putnam County Spelling Bee." She played Marcy Parks.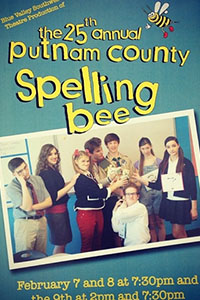 Along side her commitments to three different musical theatre companies, Armstrong also takes choir, private voice lessons and dance classes.
"I take private voice lessons to help me train my voice, a lot of the songs I have to sing are out of my range so I have to work my voice to get it to the level it needs to be at," Armstrong said. "I also take dance classes because in musical theatre, alongside singing, there is also a lot of dancing that takes place on stage. Taking dance classes just helps me dance to the best of my ability in the shows."
Joann and her voice instructor Christina Burton have very similar voices. This enables Joann to have someone to give her guided instructions on things she needs assistance with.
"Joann's voice is a lot like my own, for this reason I can always give her advice and provide her with voice warm ups that will help her train her voice to be able to hit those high notes,"  Burton said.
The Goal
In the fall, Joann has the opportunity to get a private tryout time with a casting director for the hit TV show, "The Voice." An opportunity like this is very rare.
"My uncle's friend knows some of the casting directors from the show and he showed him a video of me singing and the next thing I knew I was setting up an audition time," Armstrong said. "I'm very lucky to be able to get this opportunity, hardly any people do."
With such an opportunity comes many nerves, especially since Joann will be one of the youngest to try out because the minimum standard to try out is age 15. The casting director is the one person who can decide Joann's fate.
"I'm definitely nervous to try out, but I just have to keep my dream in mind," Armstrong said. "And no matter what happens I know this experience is an opportunity of a lifetime and it is a gateway to my career. The dream is all coming true."