Studying Abroad and Back Again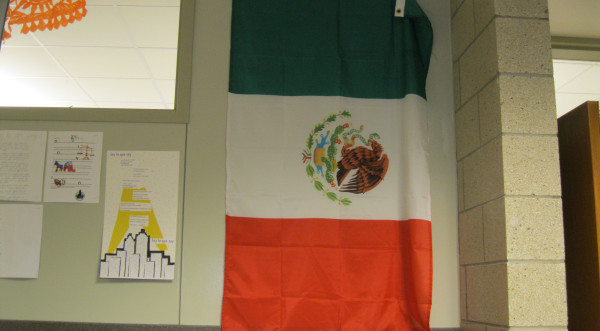 Carolyn Zeligman was looking for an extra class to take up her senior year of high school in Lawrence. She chose to pick up Spanish. Not only did she find something to fill up her schedule, she also found her future profession.
   Zeligman grew up in Lawrence,in a normal household. Her father was a college professor at the nearby University of Kansas.  She took French classes and was interested in doing something else. She was referred to take up the Spanish language, and it took off from there. After high school she decided to attend school in Guadalajara, Mexico.
 "Life was much much different there," Zeligman said.
   Zeligman and her friends who were also studying there walked to the school in Guadalajara everyday, just as a normal student in Mexico would. She had many different friends while studying there, the best of them from El Salvador. A normal day in the life in Guadalajara was very different than a day growing up in Lawrence.
 "People always told me I was always meant to be a teacher," said Zeligman. "I tried student teaching and while doing that I realized it was what I loved to do."She also thought that she was always meant to be a Spanish teacher. After spending time studying in Mexico and becoming fluent in the language she decided to start student teaching.
  After student teaching she finally realized what her true passion was, teaching. She became a Spanish teacher and taught the language she was newly fluent in. She however isn't only fluent in one foreign language. Zeligman is fluent in French also.
 Zeligman has been a teacher for more than 20 years now, and she loves teaching just as much as she did her first day. After her long life journey she has now ended up as a teacher and head of the Spanish department here at Blue Valley Southwest High School. She teaches Spanish 1, 4, and AP Spanish 5.
 "She really does a great job of teaching her students," Freshman and Spanish 1 student Zach Keeling said. "She makes learning Spanish a fun and interesting experience."
 Zeligman teaches the beginning class and the most advanced class, showing how knowledgeable she is with the Spanish language. She does a great job of motivating her students to truly try their best and to work the hardest they can in school.
  'I've never been more motivated to work my hardest in school by a teacher," freshman and Spanish 1 student Sam Kersey said.
  Zeligman gives pep talks to her classes after a bad performance on a quiz to motivate them to work even harder the next time. Zeligman also knows how to be strict but still have students interact with her and be excited to be in class.
Outside of school Zeligman has a busy life.
  Zeligman is the main sponser of the KAY Club here at BVSW. The KAY Club stands for the Kansas Association of Youth. The KAY Club promotes charity and environmental awareness here at BVSW. The KAY Club is also the main organizer for Relay for Life, Relay for Life was an event held earlier this year here in the gym to promote cancer awareness. Zeligman certainly has a busy life outside of teaching and she enjoys it.
  At home she holds a normal lifestyle. She has raised two kids who are now grown up.Zeligman will always remember her journey that took her from Northeast Kansas and back again. Carolyn Zeligman can certainly say she is a person always looking for a new experience