Cords should not be the motivating reason for students to get involved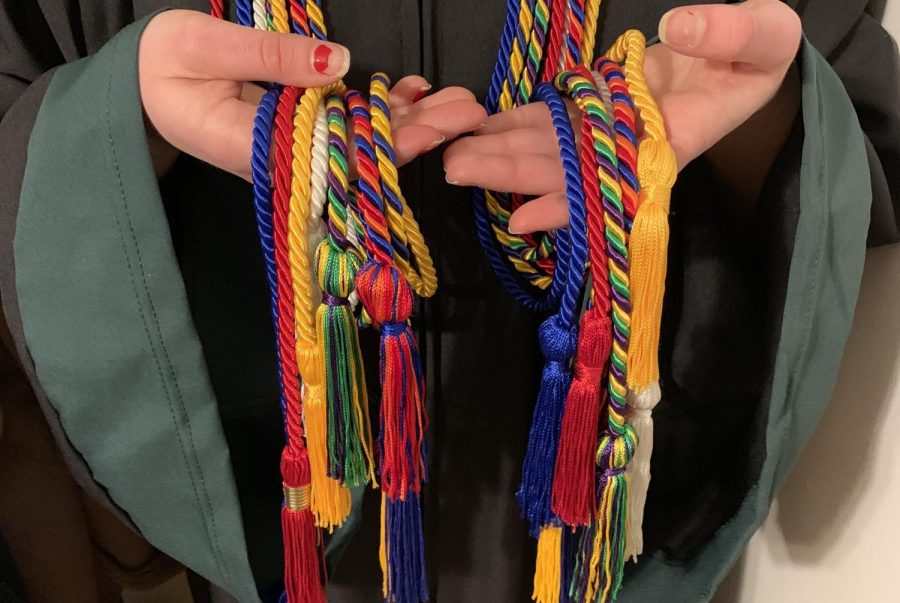 It's graduation day. Peering out into a sea of seniors, one can see the boldly decorated caps proudly displaying students' future endeavors. Some wear stoles around the neck of their gown signifying their membership in National Honor Society. Those in other clubs show their membership through cords. These cords, all different colors, represent involvement in clubs and activities ranging from Hoops 4 Hope to National English Honor Society.
Seniors strive to get these cords, especially during their last year in high school, to appear involved and distinguished. However, students are beginning to join clubs solely to receive cords, not because they truly have an interest in what these clubs are about. Senior Ted Shi is involved in student council, Relay for Life, Hoops for Hope, Diversity Club, National Honor Society, Science National Honor Society, debate and tennis. Knowing that he will receive many cords for his involvement, Shi said it wasn't his main motivation.
"I mainly did things that I was interested in, so I just found myself interested in a lot of things at school, such as debate or even just taking a larger role in Relay for Life and Hoops for Hope," Shi said. "Those were all things that really interested me. I wanted to give back to the community at the same time and found the school was a good outlet to do so."
Activities director and assistant principal Erica Warren, said she has students come to her asking what clubs give out cords so they can join and get them their senior year. However, she said she doesn't understand why they are so important.
"The last school I was at in a different district, gave everyone a gold cord because we were the black and gold," Warren said. "So no one had anything different unless they were in a honor society, and that was the stoll. So that's why I didn't understand it when I got here. Like, why is this a big deal?"
Unlike Warren, junior Josette Pinto said she thinks cords are important. She said she is looking forward to receiving them her senior year to show her family how hard she's worked because for her, the cords show what she has accomplished in high school.
"It's like a visible and tangible reminder of all of the hard work you put into being in those groups, clubs, activities and honor societies," Pinto said. "[Cords] really validate the hard work you put into those and you can see who has put in the time for everything, and they're also really pretty."
Although there are no regulations regarding cords, and what clubs are eligible to hand them out, Shi said it should be determined based on level of commitment.
"I think that if it is a club in the school and that there is consistent attendance and commitment to that club, [students deserve a cord]," Shi said. "Because they put their time into being a part of that club and also contributing to it, then that hard work should be recognized."
However, the desire to have these cords even drives students to go on sites like Amazon to purchase them so they fit in at graduation. Pinto said students joining clubs just for the cords or buying them to fit in, are missing the purpose.
"That's just really not it," Pinto said. "If you just join a club to get the cord that's false and empty as a person. That's something you shouldn't do. You should join the club to be an active member, and you get the cord as an honor."
What the cord symbolizes is being lost in the popularity of wearing them. Warren said she believes they are no longer a necessity.
"I honestly don't see a purpose to the cords any longer," Warren said. "I think it started years and years ago with the right idea. I think it, like a lot of things, we've overdone it and now it has lost its purpose."
In the grand scheme of things, cords are only a small accessory that is frequently overlooked on graduation day. Warren said she doesn't think students should be in it for the cord.
"If the cord is the only reason you're motivated, you're there for the wrong reason," Warren said. "You don't want to be a part of a club. You don't want to be a part of what that club is doing or who those people are. You just want to use it for what you think is recognition, but in the big picture of graduation day nobody pays any attention to the cords. You are a big class in a giant stadium and no one can tell the difference."
| jennahope
About the Writer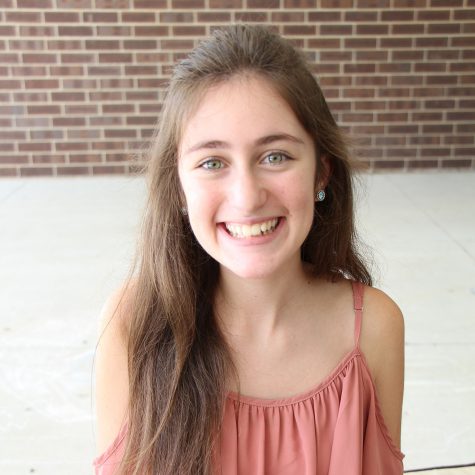 Jenna Hope, Staff Writer
This is Jenna Hope's first year on The Standard. She is currently improving on her skills as a designer and photographer. Outside of newspaper, Jenna...