New Principal Promoted From Within BVSW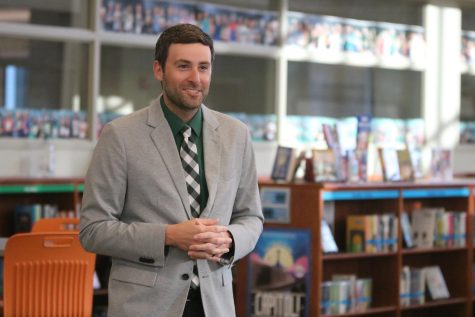 Dr. Tyler Alexander, current assistant principal of curriculum and instruction, has been named the school's next principal. The announcement was made at a staff meeting on April 7 in the Library Media Center on campus.
Executive Director for School Administration Shelly Nielsen and Chief Human Resources Officer Dr. Eric Punswick sent out a joint statement explaining that Tyler was chosen after looking at attributes most important to Southwest staff and families. "In working with Tyler over the last year (or longer for those who have been around a while), you know he is a student-centered leader who will do what is best for students. We know Tyler is excited about this opportunity to continue to work alongside you in creating a positive working and learning environment at Southwest."
Dr. Alexander is no stranger to the Blue Valley School District. Before coming to Southwest, he served at associate principal at BV Northwest. During his six years at Northwest, he also served as activities director and assistant principal. Dr. Alexander also worked as an Assistant Principal-Freshmen Class Administrator at Blue Valley West High.
Current Southwest Principal Scott Richards has been promoted to a district office position. He will be the Executive Director for School Administration. Roberts will remain in his current role through the 2021-2022 school year.
Assistant Principal for Activities Anne Kastelic has been named Assistant Principal for Curriculum and Instruction for the 2022-23 school year. Kastelic will officially begin her new role in July.