To the Polls
School building to serve as polling place on election day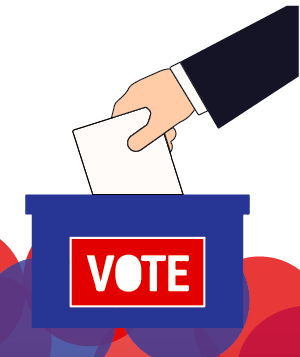 With the 2020 presidential election approaching, the district has decided to open up all five high schools as public polling space for voters. Southwest's inclusion, though it may have little impact on the general student body, is a first-time event and will be a reflection of these strange times where the election will be taking place during a global pandemic.
Principal Scott Roberts said these high school locations were chosen because of their large spaces that allow for adequate social distancing and parking space to accommodate the voters.
"For the most part, there will be very few staff members and no in-person students the day of the election, so the school will be quiet and empty," Roberts said. "Voters will be coming through the south entrance and completing their ballots in the auxiliary gym so that they are able to spread out and implement social distancing."
The social studies department is offering the America Decides class this semester, which is entirely centered around the presidential election. Social studies teacher Laura Williamson said the class is meant to engage students in political conversation and prepare some of them to participate in their first election as legal voters.
"I don't personally live within the boundaries to vote here at the school, but I think it's a great and convenient way for those eligible because of the coronavirus," Williamson said. "It's really smart that they are utilizing the schools because, especially now, we need more places to vote so people can feel safe about where they are going."
Although many students have started to express their individual interests in the election, a small number of them will actually be able to cast their votes. Senior Tanner Prock is planning to vote at Southwest on Nov. 3.
"I'm not entirely sure the exact area of residents that will be able to vote at the school, but I know I am and so are my parents," Prock said. "This election, despite the pandemic, is so much different than years previous because no one is really sure who is going to win."
High school students, specifically juniors and seniors, have several resources in the social studies department to learn about the presidential candidates, and at least start to think about how they may use their vote in the future if not this year.
"I think after 2016, that election cycle got students particularly interested in the voting system because there were so many politicians from both political parties that were running," Williamson said. "It pulled in a lot of kids with different interests and, with all of the alleged controversy involved, so many students have continued to follow the candidates again in this election."
As a student who is of age, Prock said he feels less inclined to vote because of influence from his teachers, but rather a need to complete his civic duty to his country.
"I'm mostly voting just because I finally can, and to not vote is to revoke your right to complain," Prock said. "However, many of my teachers have kept a tight mouth about things just because they know how opinionated my generation tends to be about those sorts of things."
One thing that will set this election apart from all others is the presence and exchange of information via social media. With technology advancing, Roberts said there is projected to be such a high voter turnout this year just because of how much knowledge and awareness can be spread on the internet.
"Nearly 70 million ballots have already been cast in early voting and there is going to be such high numbers as a result of this pandemic and all of the alternative modes of voting that haven't always been available in previous elections," Roberts said.
Public schools are government-owned properties and using them as a location for voters is a new way to ensure people don't neglect to vote out of fear for their own health or safety. Williamson said this election will surely have a lasting impact on several student voters as it is their first time they are able to participate in an election, while also adjusting to the uncertainties that arose during the COVID-19 pandemic.
"My first time voting is something I remember fondly, and I think those select students who are able to vote at their own school will always be able to remember it," Williamson said. "Even if they have to wear a mask."