Actions Speak Louder than Words
District responds to controversy following social media post regarding racism
Blue Valley lacks a diverse range of backgrounds among its staff, students and community. With a little over 70% of the racial makeup being Caucasian/White, according to the district website, students are inevitably unaware of social issues regarding race and how to approach and interact respectfully with one another.
After the murder of George Floyd on May 25, the district, like many other organizations and schools, released a statement regarding their no tolerance policy to racism. In response to the statement, students from all over the district shared their negative experiences in Blue Valley with racism, contradicting the district's statement.
Over the span of a couple of days, the district's Instagram post received 1,135 comments. One of the many students that commented was freshman Annousha Hashmi. She said she initially laughed at all the backlash the district received.
"I really just thought, 'wow,'" Hashmi said. "For a school district to claim to value diversity in the lives of everybody, they sure do have a funny way of showing it."
Hashmi said the post did not properly reflect on Blue Valley and their rebuke of racism, but was able to relate to what was being revealed in the comment section.
"I saw people airing their grievances," Hashmi said. "And it was like, so I'm not alone in my unfavorable experiences."
Principal Scott Roberts had a very different initial reaction and said he thought the statement was nice, but then took a step back after seeing the students' reactions.
"I know [superintendent] Dr. [Tonya] Merrigan personally felt this way, that we had to sit down and listen. We need to listen to our families, to our kids, to our teachers of color," Roberts said. "We need to sit and just listen because it was a visceral reaction; it was real, and it was honest and it was open."
Both Merrigan and the Blue Valley Diversity, Equity and Inclusion Board were contacted for an interview on this topic. No one was available for an interview, but The Standard received the following message via email from Merrigan:
"At the June 30 Board of Education Meeting, Blue Valley's Board approved the addition of a new board advisory committee ­— the Diversity, Equity and Inclusion Board Advisory Committee. That committee has since been established and has begun meeting."
After posting a follow up on Instagram acknowledging the comment section, emails and protest hosted by the Blue Valley Northwest Black Student Union, administrators, including Roberts recognized a need for change.
"We at Southwest need to elevate the voices of our students of color in a much more dramatic fashion," Roberts said.
Senior Kayden Williams was active in responding and critiquing the district and their claims. She said she thought the district's first statement was honest and a step in the right direction, but did not entirely meet her expectations.
"We [need] to go further as a district than just a statement," Williams said. "Because my entire life, and I think all of our entire lives, we've always heard people [say] that they're committed to racial equality. But that doesn't mean anything if you don't do anything to strive for racial equality."
Williams said she personally reached out to Merrigan about how necessary change is to help combat microaggressions and racial mistreatment and was able to share some of her ideas for bettering the district.
"I suggested doing more than what we do for black history, because during Black History Month, we don't learn about black individuals, we learned about the Civil Rights Movement," Williams said. "And it's a very glossed over movement."
Williams said she hasn't seen any policies being initiated and that although she is hopeful, she doesn't see the district making any evident changes.
"I'm not going to get my hopes up so high," Williams said. "It's a reality ­— like we've been here and we've had this opportunity, and nothing happens."
Although students may not be able to see a lot of change come around to the district, Roberts said he and the rest of the staff have taken part in training and preparation to better the racial injustice situation within the community.
"We had actually two in our nine days leading up to the beginning of school [of training]," Roberts said.
To facilitate change, the whole staff came together to listen to the conversations they were having with the students and design changes that could easily be implemented into the classrooms.
"[Teachers are to offer] at least one [opportunity] where [they] provide multiple different perspectives, not just the whitewash to the white perspective,'" Roberts said. "Whether it is a Muslim perspective, or an African-American perspective, or a Latino present, whatever, it is just a different perspective, to get kids exposed to that."
Another change the entire staff will implement is asking consent from students who identify as people of color to share their culture to make their peers more culturally aware and potentially prevent microaggressions.
In addition to working on change within the classroom, Roberts said he met with the Diversity Club executive board in hopes of expanding the reach of the club and help implement opportunities for diverse backgrounds to be explored more than one week of the year.
"[Providing multiple perspectives] needs to be something that happens all the time. It should be happening multiple times across the curriculum during conversations that we're having," Roberts said. "So that students are exposed to multiple perspectives on a regular basis."
Diversity Club created three branches of reach this year: monthly culture showcase videos, fundraising and curriculum immersion. Senior Karthik Sathish and junior Shiza Khan are in charge of the curriculum immersion group and through collaboration with Roberts, were able to identify issues within the curriculum and establish goals for the year.
"One of the bigger problems raised was that with things like 9/11, we're taught in a singular view without hearing both sides of the story," Sathish said. "Like all the bombings in the Middle East that followed."
Sathish said he has personally faced microaggressions in the district.
"[A staff member] would always confuse me with the other Indian kid," Sathish said. "Once he tried pronouncing my name the first time and said it was too difficult to pronounce so he just called me by my first letter."
Sathish said after confronting the staff member about the problem, the act was noted and fixed. Although many students face these uncomfortable situations, Sathish said he is happy to see the Diversity Club expanding its role into addressing justice movements and curriculum changes.
He also said through diversity club and collaboration with Roberts, new books by Black authors have been added to the shelfs from which teachers can teach to their students.
"One of the ways we can improve is to read more novels from Black authors," Sathish said. "To actually see different views of the world."
Williams said these changes are necessary. Similar to Sathish, she has faced an uncomfortable situation where her level of education was in question because of her race.
"Somebody had the audacity to tell me that they were more educated than I am because they had all white teachers," Williams said. "I have had all white teachers my entire life, and that hasn't changed. So just for that to be the measurement of education and intelligence, that was not so great."
Roberts said he felt the hurt within the voices of the people of color and that creating a culture of anti-racism is the goal for the entire district.
"[I was] sad that that's the experience that kids are having," Roberts said. "Because of that, it's time for change…those changes will be incremental, they'll take some time, but we need to make some fundamental changes."
About the Contributor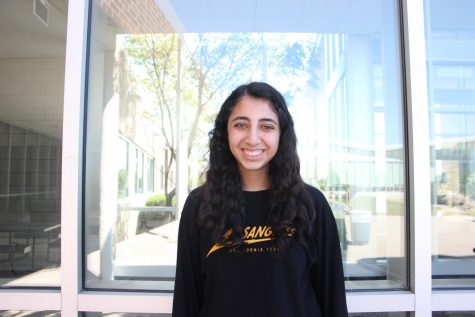 Sahar Baha, social media manager


Sahar Baha | social media manager