An Abrupt Ending: a message to the Class of 2020 from editor-in-chief Isha Patel
On March 17, Governor Laura Kelly announced the closing of all K-12 schools in the state of Kansas. This news devastated many, including the graduating class of 2020. The impact of school closures prompted many unanswered questions: Will we have senior prom? Cording ceremonies? Class Day? Graduation? Spring sports?
The end of the school year signifies a period of celebration for a senior as they prepare to embark on their next journey after high school. Some of the most highly anticipated events of the year take place in April and May. May 16 will no longer be recognized as graduation day for the class of 2020.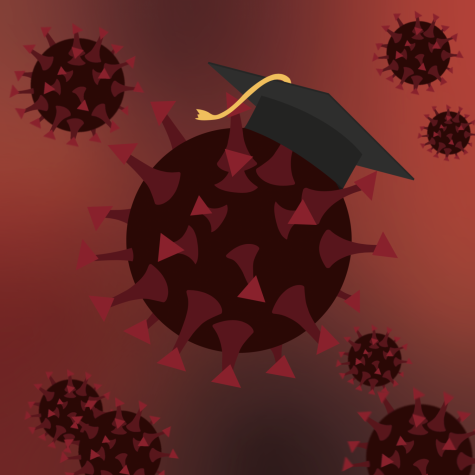 Students initially left school thinking they were leaving to go on spring break for 10 days, but instead were not allowed to return. They were oblivious to the fact that saying goodbye to the school, their classmates and teachers before spring break, could be their last in-person goodbye.
Senior Rachel Kerr said things happened so instantly that there was no proper goodbye. Senior Elise Dahm said she missed out on the last chances to see her teachers and bond with the rest of the senior class.
"I am going to miss the end of the year activities like assemblies, prom, Class Day and graduation that help finish our high school experiences off on a high note," Dahm said. "I will simply miss seeing everyone that has been a part of my life for the last 4 years."
For every senior, saying goodbye to a big part of your life is hard and the current circumstances cut our time short too early. Senior Peyton Moore said she will miss the final days of school with the people she had been around for a long time.
"We grew together as a grade and have looked forward to these activities our whole high school career," Moore said. "It's the satisfaction of sharing an 'I did it' moment with people who helped you every step of the way right before we say our final goodbyes."
Unfortunately COVID-19 did not only take away celebratory events and final goodbyes but also many seniors' last sports seasons. KSHSAA announced the cancellation of all spring sports on March 18. This meant the cancellation of senior nights, team traditions and the season affecting every senior participating in a spring sport. Senior Taylor Gillis said girls soccer season was something she looked forward to each year.
"This was my senior season," Gillis said. "I've looked forward to this moment for three years and now that it's here, it was taken away. Being able to lead my team with my other seniors is something I was so excited about."
Gillis said this season was supposed to be the year the girls soccer team went back to state, but said she was grateful to have been a part of two state titles, EKL titles and regional championships.
At the start of spring break, the district announced the cancellation of practices throughout the break, potentially foreshadowing what was to come. This news came suddenly as coaches gave their support to all of their athletes. Other student athletes, like senior Sophie Mayhugh said she would miss out on her last softball season. I, myself, would miss being a part of the girls swim team.
Many of the end of the year events have significant meaning or carry traditions passed down by each class. Senior Nicci Toub said Class Day and the senior picnic will be missed. The senior picnic celebrates the yearbook as seniors look through the pages to find their seniors ads and pictures. Time capsules we made our freshman year are opened and shared amongst friends and decisions for after high school are proudly worn on our T-shirts. Such traditions cannot be forgotten. Class Day is our final goodbye to Southwest, where we walk through the courtyard one last time before banging the drum closing our time in high school.
Recently, in a video to the public, superintendent Todd White announced all major events of the school year are currently "postponed." He said such issues will be addressed in the future as the district is currently working on setting up online schooling for students starting March 30. He said he does not want to cancel such events knowing how important they are to the students.
Class of 2020, I am so sorry our senior year came to a quick end. This news did not only bring sadness upon us but anger and frustration on the loss of ending our senior year on a positive. I empathize with all of you on being deprived of sports seasons, awards ceremonies, clubs, Class Day, graduation and more. These end of the year moments were what we have looked forward to for the past 13 years, and now…it's just gone. The memories that would have been made this last quarter would have been the ones we would remember the most. I am sorry we will not get to graduate the way we wanted. COVID-19 may have been able to take this away, but it cannot take away the past four years of memories and friendships we have made. Class of 2020, we are a family and will get through this together.
|ishapatel
graphicdesign by |sirichevuru
About the Contributor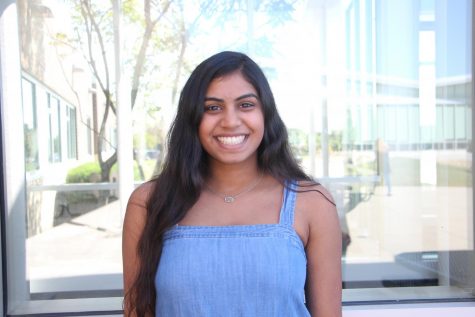 Isha Patel, editor-in-chief
Isha Patel | editor-in-chief