Dash down the lane: junior Yaseen El-Demerdash qualifies for Paralympic trials in Singapore
From joining the Kansas City Blazers swimming team nine years ago, to being invited to the Worlds Series swim meet in Singapore, junior Yaseen El- Demerdash has had a huge impact on the school's swimming program. After recently being classified as a para athlete due to his rare condition, Poland's Syndrome, he has greatly affected the para and non para swimming communities.
Being born with Poland's Syndrome is seen as a limiting factor to one's physical abilities, but El-Demerdash said he was able to adapt to his condition by starting to swim at the age of 7.
"I think going into swimming for me when I was younger, I hated it," El-Demerdash said. "I didn't want to do it, because it was difficult."
His mom, Dina Massoud, was the one that encouraged El-Demerdash to swim in order to help him build the strength to overcome future challenges.
"I wanted to always set him up for success," Massoud said. "So one of the things that I thought would really just help him is making his body stronger."
The effects of Poland's Syndrome vary from one person to another. For El-Demerdash, the right side of his body is missing muscles and bones. Although his physique doesn't match that of his fellow competitors, he has managed to excel in his non para swimming.
"I'm missing a pec on my right side, a couple other muscles, so my right side is weaker than my left and I'm missing bones in my hand," El-Demerdash said.
Throughout his nine years of swimming, he has been able to adapt to his condition and continue to train as hard as his teammates. Because of the unequal balance in muscle, he needs to overcompensate on his right side.
"He's going up against physically stronger, bigger [swimmers]," Massoud said. "Most people don't know that he's working that much harder … and he's still competing and beating many of those swimmers."
El-Demerdash hasn't let his condition bother him in terms of self-consciousness. Having been recently classified as a para athlete, the doors of opportunity have opened for El-Demerdash. Former head swim coach and current interim coach, Arvel McElroy said he is impressed with El-Demerdash's drive and positive attitude toward all that he faces.
"I just see him with confidence and drive once he was classified as a para athlete," McElroy said. "It was like he had some new goals to try and set and to reach."
This year was the first year the national Interscholastic Swim Coaches Association established a para All-American category.
"He has reached four standards in four different events to be an All American," McElroy said. "He has set seven national breaststroke records for para athletes in the last month."
Having accomplished so much in so little time has given El-Demerdash a lot of opportunities to continue competing at such a high level. He is also making advancements in the non-para swimming community having recently broken the school's 500 freestyle record.
"When it comes to viewing that," El-Demerdash said. "I view it as just one step toward an end goal."
Even though he dedicates a lot of his time to swimming, school has always been a priority for him. Balancing his schedule between school, swim, and robotics keeps the swimmer busy outside of the pool.
"As he becomes more proficient in swimming…he's going to have to push himself that much more, and it's going to become much more stressful," Massoud said. "I guess my concern would be making sure that he handled that all well."
After recently competing at the Jimi Flowers meet at the Olympic training center, El-Demerdash broke the American record for the 200 breaststroke, and was classified as a para-athlete. He was then invited to the World Series, to get classified internationally. After the meet, El- Demerdash was also able to join the national team.
"After [the World Series], I'll go to the Paralympic trials where I'll try to qualify for the Paralympics," El- Demerdash said. "So fingers crossed, keep working toward that, and we'll go to the Paralympics."
El-Demerdash joined the varsity boys swimming team as a freshman and has had a lot of personal growth since joining the team. His teammate, senior Isaac Holman, has been able to watch El-Demerdash grow on the team.
"I thought it was really cool to just see him progress even throughout the year and just continue to drop time every week," Holman said.
Being on the team has not only given El-Demerdash the opportunity to grow as a swimmer, but to also build long lasting bonds with his teammates.
"We both were in a lot of relays together, and made finals together," Holman said. "Obviously, that was just a good experience to just have a bond with him and just come out of that together."
After spending hours in the gym and pool together training and practicing, El-Demerdash has been able to get to know all of his teammates.
"A lot of the people I know is because of swimming," El-Demerdash said. "So we all suffer together, we all train together."
Being on the school team has also been an opportunity to exhibit and implement leadership skills for El-Demerdash. Since he is an upperclassmen on the team, he is able to lead the team and become an example to his teammates.
"It was just pretty cool to see how Yaseen kind of led the team and set an example by his work ethic," Holman said. "Just the way that he really dedicated himself to the sport."
Whether he makes it to the 2024 Paralympics or not, El-Demerdash will continue to excel in swimming.
"My hope for him, now that he's also joined the Paralympics is for him to continue to do both non para and para," Massoud said. "Just to continue to grow and to continue to push himself and excel and challenge himself."
About the Contributor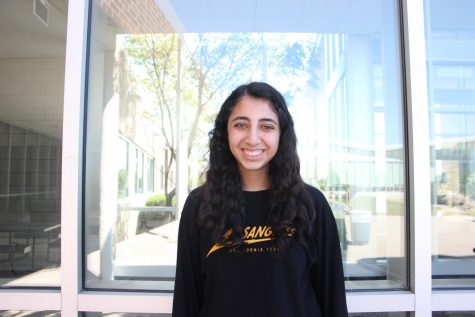 Sahar Baha, social media manager


Sahar Baha | social media manager