Cheer team recieves two new coaches
Two new faces. Two new coaching styles. Two new names to learn. Two new kinds of instruction to take. Two new coaches, new educators to learn from and value to the end.
The 2018-19 cheer team has two new coaches, completely rearranging the state of school cheer. As the year began, senior Caroline Ayres said the team had experienced all that came with new management.
"I think a lot has definitely changed," Ayres said. "I think it brought a little bit of anxiety because, for a while, we didn't know who our coach was so we didn't have a lot figured out about the year … But in the end, all those changes were good. There are some new traditions and new things these coaches liked; it compliments their experiences and our experiences."
With new coaches comes a new format. Ayres' teammate sophomore Sydney Stanton said she agrees with the new changes and is excited for a fresh start in cheer.
"I feel that it's gotten a little bit stricter," Stanton said. "But the coaches are more respected and the girls have a better time. We're learning more new things, and it's a better switch for the program."
One of the new coaches is Courtney Slick, who began coaching during her senior year of high school. Despite this being her first time coaching cheer in Kansas, she has been a cheer coach for 14 years. She said she has already implemented a new ideology amongst her cheer squad that will help them as leaders in the school.
"It is important to me to equip athletes with skills that translate from athletic activities into all walks of life," Slick said. "I want to guide them in self-discipline, motivation, responsibility, goal-setting, teamwork, how to celebrate wins and how [to] move on from losses. I coach because it is my true passion in life. Nothing is more rewarding to me than seeing someone work hard and achieve something they never thought they could."
Before this school year, cheerleaders could typically be found in cheer class during seventh hour. However, there is no cheer class this year, causing the cheerleaders to have outside practice. Junior Gracie Rodlund said she had her doubts at first, but has come to realize the benefits of having cheer practice after school.
"I loved cheer class because it gave us more bonding time," Rodlund said. "I feel like last year it was just like a hangout hour. We got stuff done, but not as much as now. We actually get stuff done at the real practice now, so I think as a team, not having a class has benefited us."
With more time to practice, coach Kalli King said she is excited to share her passion with her new squad. She said she cheered for the Morehead State University Cheerleading Program and, during her freshman year, helped the 2010-11 All Girls Squad win their eighth UCA College National Title. Unfortunately, that same year she suffered her sixth knee dislocation and decided to move back to Kansas, finishing up college at Kansas State University. Now, she said she is committed to coaching and is excited to continue with this squad.
"I coach because I love the sport," King said. "I love teaching cheerleaders new stunts, nothing compares to trying a new stunt over and over again and then something just clicks and it works like clockwork. It's an amazing feeling. I love showing that there is more to cheerleading then cheers, it's the difficulty and talent of a team that creates those 'wow' moments in a routine you remember."
Motivation stems from a variety of places, Stanton said. However, she said the thing that motivates her to push herself this year is the school crowd.
"I want to prove that we are better than we were and that we can actually do cool stuff," Stanton said. "We have stronger girls this year that can stunt and the coaches teach us how to do new things. We also have more tumblers — it looks more impressive to the crowd."
Rodlund said Stanton's dreams of the crowd becoming more accepting and impressed by cheer are coming true thanks to the overwhelming response the team gained at the first day of school assembly.
"I think just after the past two years … everyone has just kind of been like 'Oh, the cheer team. Cool. They're the cheer team,'" Rodlund said. "So this year, after the first day of school assembly and seeing how everyone responded to that, I just think our goal is for that to happen every time and just really lead the school in spirit."
A fresh start for the cheer squad is just what it needed, Stanton said. Ayres said every teammate has to give 110 percent, which will benefit the program as a whole.
"New routines, new cheers, a whole new mission," Slick said. "Stay tuned, we've only just begun."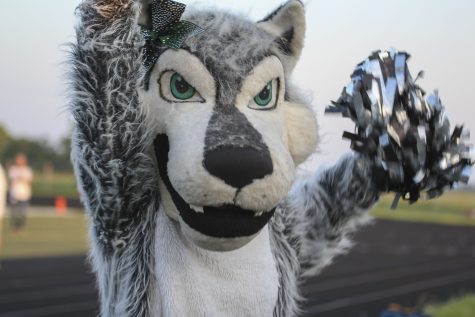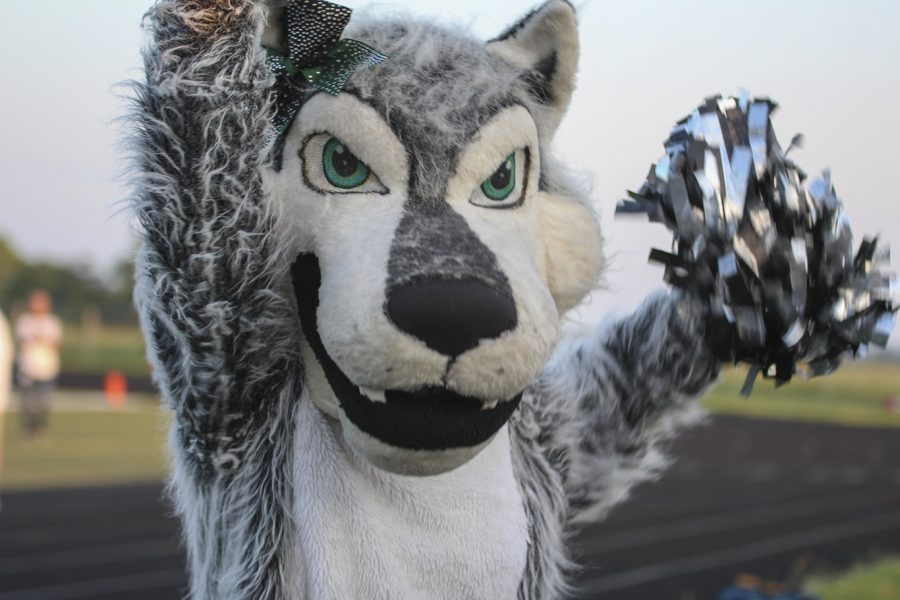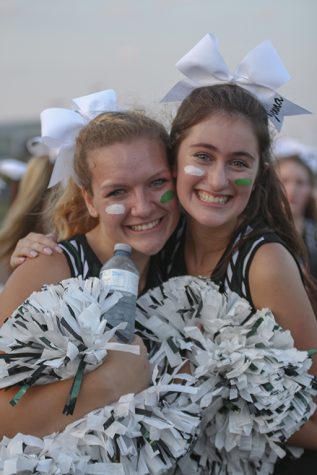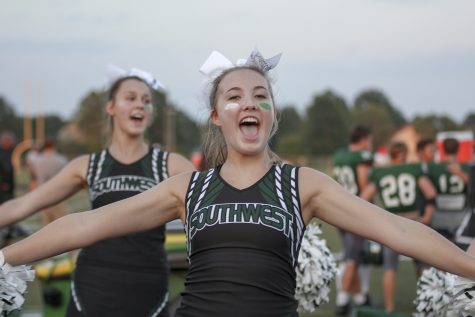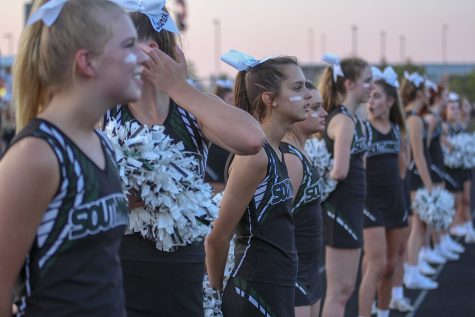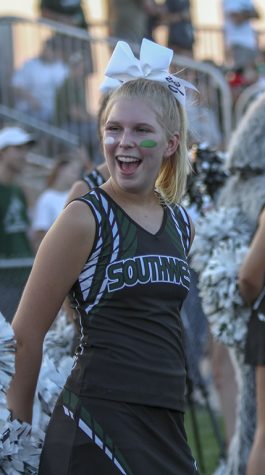 About the Writer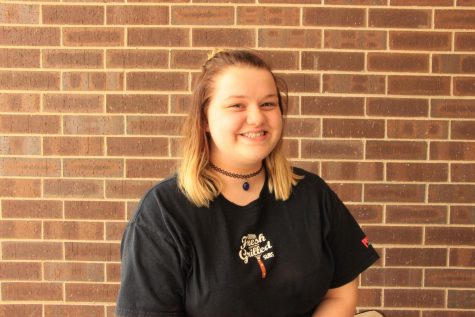 Emma Olinger, Online Editor
This is Olinger's second year on the Standard. She has absolutely loved being apart of the newspaper and has been since august, 2016. She won second place...