In with the old
A look into how students have turned thrifting into a business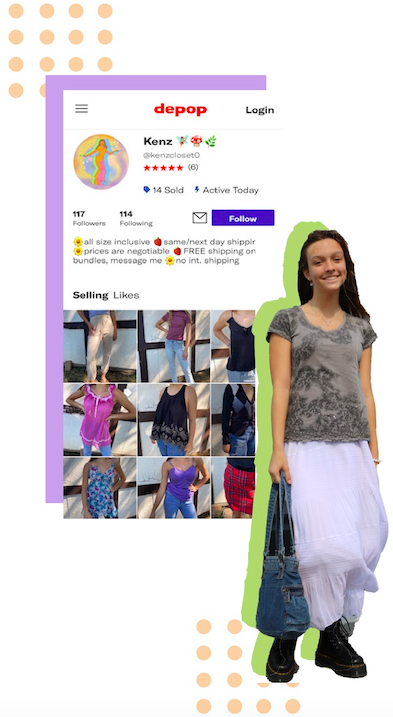 With clothing trends making a comeback from decades ago, so has thrifting, an alternative option for shoppers looking to stay away from retail and fast fashion.
This old trend has resurfaced once again, and some students are now using this trend as a foundation for their businesses.
Thrifting since she was 13 to buy herself clothes, sophomore MacKenzie Wasinger, decided to start selling some of her unique finds as a source of income.
"I worked with my dad," Wasinger said. "But I needed a little something extra."
Similar to Wasinger, senior Maddie Kelly started Signature Thrifts, a small clothing business with sophomore Audra Pugel.
"We sell the items on our [Instagram] stories," Kelly said. "People can swipe up and the first person to swipe up on the item gets it."
Kelly said as vintage fashion has begun to resurface, she has evolved her style to fit her finds.
"A lot of my favorite pieces that I found have been things that were first outside of my comfort zone and then ended up really cute," Kelly said.
While Signature Thrifts sells via Instagram, Wasinger uses Depop, a fashion marketplace app used to buy and sell unique items.
Before using Depop, Wasinger said she sold her finds on Mercari, a similar app.
Before she can upload them on her account, Wasinger said she uses a white backdrop and takes photos of each item so her buyers know how it looks on a person
"After I take the pictures, I upload them to Depop," Wasinger said.
After adding a small description for the clothing item, Wasinger said she adds keywords, which is an important step in the process.
"I didn't put keywords like it wouldn't reach a lot of people." Wasinger said.
Since the thrifting trend started up again, many sellers have only started their businesses recently. Although their businesses may be new, thrifting has been around for some time and many sellers have years of experience.
"I've been thrifting for probably a couple years now," Kelly said. "And I started selling [clothing] this summer."
Kelly and Wasinger said one of the keys to selling thrifted clothes is knowing one's audience.
By knowing her target market and looking into each item to compare prices, Wasinger said she has been able to sell her items quicker and for the price she has set.
"If it's trendy right now you kind of have to know your market," Wasinger said.
By searching for prices in similar pieces and pricing a couple dollars up, sellers like Kelly are able to make a profit.
"I only price up the items a few dollars, because our audience is mainly high schoolers who don't have a ton of money to spend," Kelly said.
One of their popular buyers, junior Abby Burkhalter, who also buys thrifted clothing from other sellers, said one of the things that made Signature Thrifts stand out from the others was their handwritten notes.
"They write like little notes in the bags they give us, which I really like," Burkhalter said.
Burkhalter said she prefers thrifting over retail because of how unique and different her finds can be.
"It'll be something that only you have in your closet," Burkhalter said.
Wasinger said even though she started her store to make some extra cash, it's still something fun for her to do for herself.
"It doesn't even feel like work to me," Wasinger said. "It is something I enjoy doing so much."