Pitch perfect: three students share their experiences singing a cappella in a nationally ranked group
A capella singing is a group or solo performance without the use of instruments. Different sounds coming together form the beats and vocals of the song. Three students at school have taken their singing to the level of a capella by participating in a nationally ranked group known as KC A Cappella. Junior Ashley Hendricks said KC A Cappella is made up of a group of 24 students from different high schools across the KC metro area.
"It's not super competitive, but you definitely have to be passionate about singing and it's not something just anyone can get into" Hendricks said. "We definitely have some of the most talented students from the area."
Senior Dom DeCicco said he has been a part of the group for the same time Hendricks has — two years — and sings tenor 1.
"Nationally, we're technically in the top 10 groups of last year, so we're pretty well known in the a capella world," DeCicco said. "We're one of I think two groups in the high school division that is not from a singular high school where we have people from multiple high schools and so some people hate us for that, because they're like, 'Oh, they get the cream of the crop,' but we also rehearse once a week instead of five days a week."
Senior Fabiola Cabrera was the most recent of the three to join the group six months ago. All three said they found out about the group while performing in theatre shows with their group members. In a similar situation as Hendricks, Cabrera said she auditioned twice before being asked to be a part of the group.
"The auditioning process … is through a video submission, so you have to go on their website," Cabrera said. "All you have to do is memorize a song and you're given a track and get to listen to it, and you have to select the part that you're auditioning for. We have to answer why we want to be a capella and what we would contribute then [sing any] song in acapella."
DeCicco said the group rehearses together every Sunday for about two to three hours at John Presbyterian Church.
"[We'll] start off at the beginning of the year, just learning music and then we get to specific details and then when we get to our competition season we'll get into staging for performances," DeCicco said. "Then just running through our sets and whatnot, and then we rehearse for our final concert at the end of the year."
Hendricks said the group sings a range of songs that they lease and practice together.
"We sing a wide variety of different songs on contemporary pop music, a little bit of musical theater, but I think my favorite song that we've ever sung, was 'True Colors' last year," Hendricks said.
Cabrera said the group was formed by Overland Trail choir teacher James Levi, and in addition the group has a student choreographer who comes up with choreography to each of their songs for the entire group.
"He's kind of the head coordinator for this, and he's a music director," Cabrera said. "He coordinates absolutely everything. Like it can be kind of like, not a treasurer, but manages funding. He books us performances [and] he teaches us music."
In January, KC A Cappella was awarded first place at the Varsity Vocals ICHSA quarterfinals competition in Normal, Illinois, qualifying the group to advance to semifinals in March.
"There are a few competitions throughout January to April, and there's three different rounds," Hendricks said. 'There's quarterfinals, semifinals and finals and so we just competed in the quarterfinals last month. We move on to the finals next month in Ohio and if we get first there, then we get to go to the advanced finals, which will be in April in New York City," Hendricks said.
Last year, the group placed third at semifinals and continued into the wild card round, placing third, ranking them in the top 10 in the nation. Cabrera said that the team took home three trophies for best choreography, best soloist and placing first.
"Hearing them call our name was so exciting and everyone was jumping and screaming," Cabrera said. "Additionally we weren't just the champions but our soloist Tracy Knight won best soloist for Stronger Than I've Ever Been and Jackson Tomlin won best choreographers. So we went home with three trophies, we achieved something big.
DeCicco said he has a lot of first place confidence going into semifinals and thinks the group has a stronger performance this year. While they are not traveling to perform at competitions, DeCicco said they are performing at various events throughout Kansas City year round.
"We do the plaza lighting ceremony pretty much every year," DeCicco said. "We have the past three and been on the televised event for the past two years. We've done a bunch of corporate holiday parties this past year."
Hendricks said being a part of this group allowed her friendship to grow with DeCicco and Cabrera.
"I have been very close friends with Faby and Dom for a really long time, so getting to be in KC A Cappella with them outside of school has just made our friendship stronger and it's something that we all bond over and get to share together," Hendricks said.
All three said KC A Cappella has helped them improve their overall music skills. Cabrera said it has specifically improved her ability to read music, understanding dynamic and rhythm, as well as everyday skills.
"I'm just becoming a lot more patient of a person because the whole process can be a little tedious at times," Cabrera said. "And honestly, it feels really good to say that I'm a part of an a acapella group that is pretty prestigious in Kansas City — the state of Kansas — it feels good to know that I'm part of something so well respected."
About the Contributor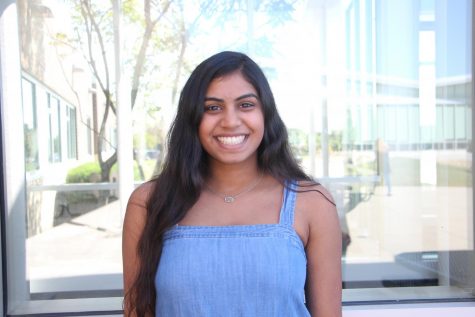 Isha Patel, editor-in-chief
Isha Patel | editor-in-chief