Wrestling team welcomes first female wrestler
Pinning her opponent to the ground, sophomore Hannah Glynn waits for the referee's whistle to blow making her the winner of the match. Glynn said she began her wrestling career back in seventh grade when she joined the middle school wrestling program at Aubry Bend. However, when high school rolled around she was unable to wrestle due to the program being all male.
Head wrestling coach Cody Parks said he kept Glynn in the loop about the process of creating a girls program. Last year, the district approved a girls wrestling program to be implemented throughout the district. Glynn said she jumped at the opportunity.
"I needed a break from competing in CrossFit," Glynn said. "And this was the first year that they were doing girls wrestling. Everything just kind of lined up with the break I was taking from competing and [the] new program."
Glynn said her parents were at first hesitant of her wrestling because it was all boys and did not want her to get hurt. But, after the girls program was introduced, they were supportive of her decision. Glynn said she enjoys the practices after school and said the team was very welcoming, making her feel like a part of the team.
"It's like anything, you look around and don't see, you know, faces like yours," Parks said. "It's always tough … she doesn't see a ton of girls around [and] that is a tough situation, but I think it's more of… the guys work and she works to have those relationships. And so I see more of her relationships like individually with the people that are helping her."
Glynn said she was at first nervous to join the team and didn't know what it would be like. She said she often talks to the team's female managers and is more close with them.
"[The boys are] of course stronger and it's I guess a little awkward because they don't know what they can and can't do," Glynn said. "And they don't know whether to go easy on me or go hard on me."
One of Glynn's teammates sophomore Andrew Farrell said having Glynn on the team has not really changed the dynamic.
"I don't work with her but, I have other friends on the team that do and, she's just really strong and she can basically hang with all the guys and match their competitiveness and all that stuff."
Glynn said she competes in the weight class of 123 and began her season with a 12-1 record.
"I just go out there and try my best until I hear a whistle," Glynn said. "I have pinned most of my matches [and] I have made about 90% of them cry."
Parks said the coaches knew of Glynn's athletic abilities from her past athletic activities and said they further discovered her high work ethic and attention to detail this year.
"She understands the sport, so when you understand the sport, she's just another athlete that we have in the room working hard doing the right thing," Parks said. "Nobody treats her any different. The guys know her, they practice — whether they train, whether they help her — that's just what we do in our program to anybody."
Glynn said her recent loss was one she learned from and moved past to keep trying harder.
"She's only lost one match and she's lost to what they consider the best," Parks said. "And it was a very close match until the end. And some of those things [she did], we're going to remedy those things."
Parks said he thinks Glynn is the team's shot at having a girls state champion based off of the skills progress she has demonstrated already. Farrell agreed.
"She's been doing really well," Farrell said. "For [her] first year wrestling, [she's] taking it really seriously…I think it is insane to watch."
Going into the season, Glynn said she just wanted to have fun and try a new sport unaware of her success.
"It's… [normal] having maybe one meet per weekend," Glynn said. "I think state is in… late February, so as long as I can keep winning and try my hardest, I'll try for state."
Parks said other than her competing in a different uniform and wrestling girls he said she is still a Southwest wrestler.
"She's the perfect first person," Parks said. "If you're going to start a sport and you had to pick somebody to go through it and it goes through like this, I don't think there's anybody else that could do it. I think she's the only one that could probably [be] tough enough to do it."
| ishapatel
About the Contributor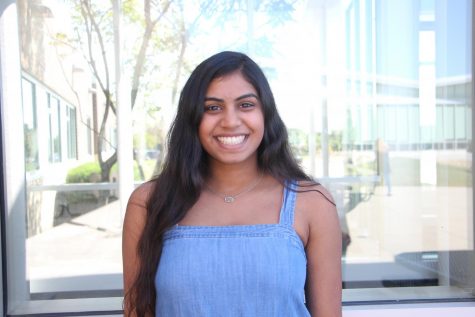 Isha Patel, editor-in-chief
Isha Patel | editor-in-chief