Blood, Sweat and Chalk: senior Chance Brogan competes as a level 10 gymnast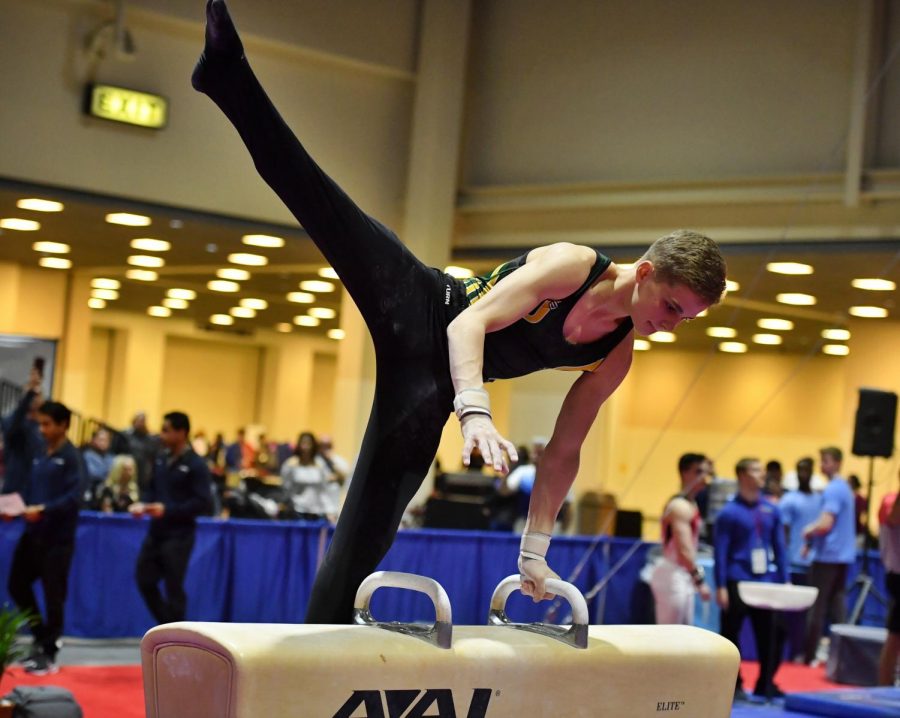 Senior Chance Brogan has competed in male gymnastics since third grade, when his mom decided to enroll him and his three sisters. Since then, he has put forward his best work to achieve the highest possible skill level — level 10.
His parents Aaron and Lindsey Brogan said they knew it would be a perfect sport for Chance to continue from a young age because of his personality and body type.
"Chance's dad was a former gymnast, so we knew with Chance's built, constant high energy, flipping all over the furniture and lack of interest in other sports when he was young, that gymnastics would probably be a great fit for him," Lindsey said. "We tried it when he was about 7 years old and he has excelled at it ever since."
Since age 7, Chance has been pushed to become the best he can be at gymnastics. After great coaching and a lot of practice, he has achieved his goal.
"It will be my third year of being level 10," Chance said. "It goes from level four to 10. Ten is the last level and after that, I guess you could say the next level would be collegiate gymnastics."
When it comes to balancing gymnastics with the rest of his life, Chance said it gets a little more tricky, especially as the year progresses and schoolwork gets more difficult. But for Aaron and Lindsey, there are other stressful aspects.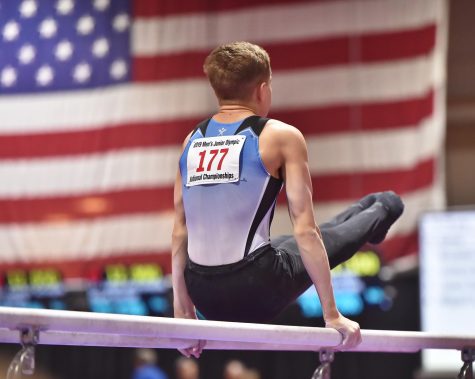 "Gymnastics is definitely a financial and timely commitment, but of course, the sacrifice is always worth the reward of getting to be a part of your child doing something they love and have a true gift and passion for," Lindsey said.
In gymnastics, men compete in six events and women compete in four. Women do vault, bars, beam and floor, while men do vault, floor, pommel horse, parallel bars and high bar.
"I'd say that is the main difference are the events, but really I think of them as almost two completely different sports," Chance said.
Before understanding Chance's love of the sport, Chance said his peers reacted in shock because there are not many male gymnasts in the Kansas City area.
"Most people respond with a bit of a surprise because it really isn't a popular sport for males these days," Aaron said. " Most people seem to have an awe and respect for the unique qualities that Chance possesses as an athlete if they get to see any of his event performances."
Despite women's gymnastics being more popular, watching men compete can be just as excited for viewers.
"Gymnastics competitions are exhilarating as a spectator, more so the higher level meet your'e attending," Lindsey said.
"These athletes come in with their warm-ups, looking just like typical teens, but then amaze you with their physical strength and abilities once the competition starts."
Next year, Chance said he hopes to compete in the National Championships for all-round finals. Not only is it his goal to compete, but his parents enjoy watching him compete as well.
"Chance qualifying for the National meet at Regionals in Texas was already a major feat, so we really did not expect him to make finals at nationals, but he proved us wrong," Aaron said. "After having the meet of his career, he continued to compete in the finals among the top 32 gymnasts in the nation his age."
In order to get to the National Championship again this year, Chance has to push through the most difficult parts of being a gymnast.
"The hardest part of being a gymnast is working at the things that you're not as good at because there's a lot of things that I do like to work at," Chance said. "Sometimes I'll find myself just working on the things I like the entirety of practice, but there's also a bunch of things that you might not like as much, and it's about working at your weaknesses."
As for other boys who are working to succeed in the gym and become the best gymnast they can be, Chance has different advice.
"Never give up. Stick with it," Chance said. "There are definitely going to be challenges and adversity, but I think you just got to stay focused on working through the hard parts."
Aaron said his entire family, including Chance, loves watching gymnastics because both he, his daughter, and Chance have competed in the sport.
"We have a deep respect for all gymnastics because of their sacrifice to do what they love," Aaron said. "We love the power, strength, and overall athleticism that both male and female gymnasts possess. Their mental toughness and resilience are beyond compare."
Overall his peers, family, and teammates appreciate his hard work and believe he will continue to have great potential as a male gymnast.
"Chance is and will always be a very consistent and dependable athlete that you can count on to almost always perform at the necessary level of excellence to continue growing as an athlete," said Lindsey.
About the Writer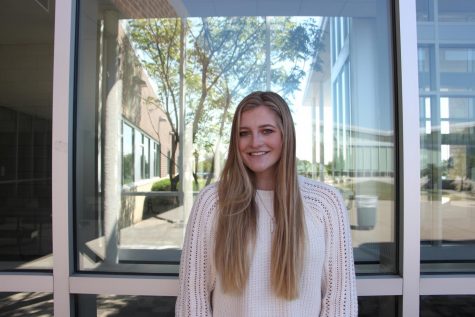 Sydney Wilson, Staff writer


Sydney Wilson | staff writer