Charity basketball tournaments continues as leadership changes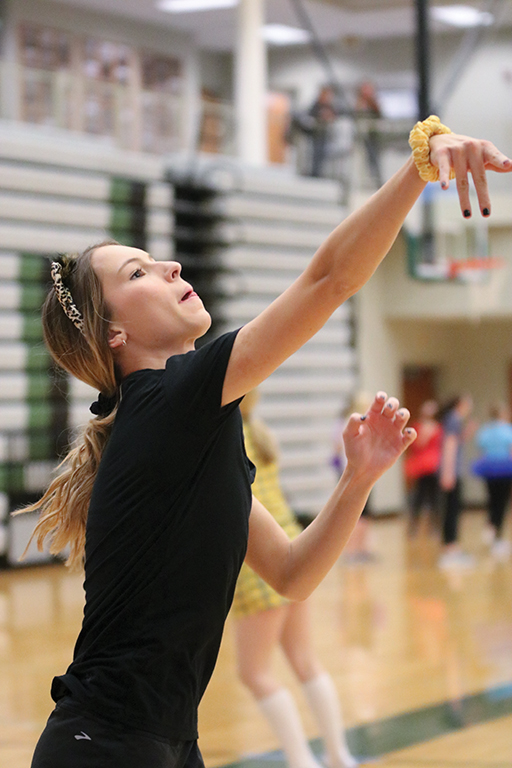 Two thousand seventeen marks the seventh year of Hoops for Hope, an event that originated in the heart of Southwest. Hoops for Hope is a fundraiser to raise money for pediatric cancer and bring hope to families that are struggling. Because of success in previous years, Hoops for Hope was looking to increase its size, however, the plans were derailed when management issues arose. Chris Jenson, science teacher and founder of Hoops for Hope, said the event underwent a structural change this year.
"Hoops for Hope USA has disbanded, but the event is still allowed to continue at any interested high school, and we have a Google Drive online that we share with any interested high school, for that matter, across America," Jenson said.
With this shift in structure, only a few schools in the area decided to continue with Hoops for Hope, including Southwest, Blue Valley Northwest and Shawnee Mission South. According to Jenson, their initial goal related to expansion was inhibited by a lack of staff.
"The supporting team that helped all the seven schools last year just had a lot of stress and pressures and so, although we all couldn't make it work, we wanted to make sure we created a good hand-off back to the schools to allow them to make it work," Jenson said.
Hoops for Hope 2017 was led by math teacher Neal Doolin rather than Jenson. Although this year brought about change for Hoops for Hope and the structure of the event, Doolin said the purpose of the event remains constant.
"The core idea's still the same," Doolin said. "We want to have a bunch of kids get together, dress up in silly costumes, have a fun time [and] raise some money for children's cancer."
Although Jenson stepped down in a leadership role this year, he said he did so with the intent of passing the baton on to someone with new and fresh ideas.
"I thought I had taken it as far as I personally could and I was looking for someone with enthusiasm and new and fresh ideas to continue to take it further," Jenson said. "[Doolin] had expressed interest, and so I feel like it was just a blessing that he took it over, and I know he's going to do a good job."
Senior and student leader Rachel Wolf has been a part of Hoops for Hope for three years and has helped run the event for two. Because of modifications of the event, Wolf said "the team worked really hard and spent a lot of time creating this new structure." However, Wolf said her focus wasn't solely on the organization of the event, but rather on its impact.
"It's taught me a lot about doing things for other people and stepping back and really doing the best I can to help someone else instead of just doing everything for myself," Wolf said.
With Hoops for Hope's mission statement in mind — "kids helping kids" — Doolin said the team of student leaders has put in a lot of time and effort.
"From a message standpoint, it really is kids helping kids," Doolin said. "We have a very talented team of student leaders who have done so much of the leg work. Honestly, my primary role was just to organize them, say, 'Hey, this is what I need all you guys to do, here are the bullet points that we need to achieve within the next month,' and then delegate those out."
Although on the surface Doolin said his role is a lot of organization and delegation, he said Hoops for Hope has affected him personally as well.
"I feel like doing Hoops for Hope has given me an additional sense of purpose," Doolin said. "I feel like, 'Yeah, this is why I'm here.' I'm here to coach up our calculus students, our physics students and get them to perform at the top level, but I'm also here to put smiles on faces and bring hope to some families that are really struggling and going through a hard time."
With Hoops for Hope's decrease in size, Wolf said the team still remains positive about their impact in the future.
"We won't be raising as much money this year, which is a little disappointing, but we're hoping we can make [the event] grow again," Wolf said. "We'll start over and make it again, like we had in the past."
Less money was raised overall for the Hoops for Hope event, however fundraising increased from last year's $7,200 to $10,000 at Southwest. At the end of the day, structure change and all, Jenson said it is important to realize that any contribution of any size will help a family.
"Your silly, fun time on the basketball court, dressed up as whatever ridiculous costume you can think of, is going to literally change a couple families' lives," Jenson said. "Please go home with a big smile on your face because that's what you did. Maybe you won a prize, maybe you won a game, hopefully you had a good time with your friends, but you are guaranteed to change a kid and family's life when you take that stress away from them and pay that bill."