Relay for Life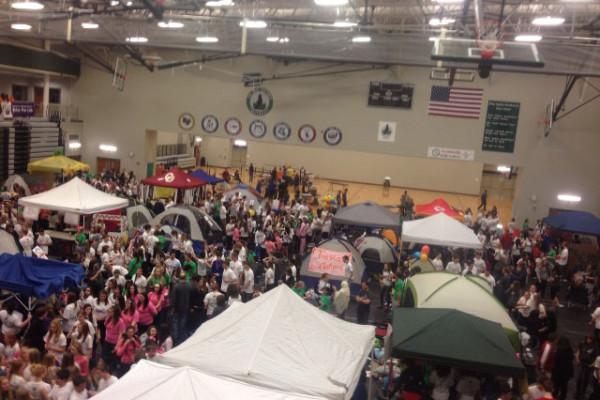 The 2013 Relay for Life event, which was held in the Southwest gym, was such a success in both size and numbers that Relay for Life 2014 will be hosted at Johnson County Community College [JCCC.]
Throughout the night there will be many events scheduled such as serious matters like luminara and entertaining activities such as basketball games. In order to come to Relay for Life participants had to raise 50-100 dollars. The goal of this night isn't just to have a good time with friends it's to fight back against cancer and make a difference.
"I hope relay gives people a new understanding of cancer because a lot of students complain half way through the night about how tired they are but cancer never sleeps," sophomore committee member Nick Edwards said. "When you have cancer you can't decide when it starts or stops so sacrificing one night of sleep isn't too much to ask."
In 2013 the three schools, which included over 1,000 participants, ranked 10th in the nation in total income. This year the committee, which is made up of students selected to be on the committee after submitting an application based on their activities and involvement in the community, have planned the event. Also, the committee hopes to raise $130,000 from the event.
Many of the teams are fighting back for their friends or family members who have lost the fight to cancer.
"Relay means a lot to me ," sophomore Brianna Bartalos said. "My mom passed away from breast cancer and I want to do everything I can in order to help stop any type of cancer from progressing. I want to fight back because cancer has a lot of meaning to my family and I don't want anyone else to suffer."
Relay for Life has established their own personal motto, 'you can make a difference.'  The money donated will go to the American Cancer Society in hope that there will some day be a cure for cancer.
"It's great to see youth come together to support such a great cause," senior Taylor Egan said.