Senior Tori Loepp makes it into cast of Making Magic/Defying Gravity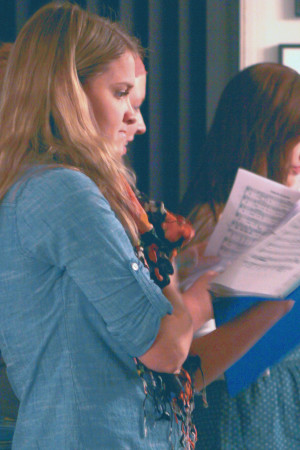 Senior Tori Loepp auditioned against 80 other females and was chosen to be a part of the cast of "Making Magic/Defying Gravity". The event was a one time only performance at Blue Valley North on Oct. 21. As part of the show, they had the chance to work with the professional cast of "WICKED" throughout the performance. It was also one of the fund raisers for our State Thespian Organization. Loepp's father, Roy Loepp, and theatre director Dan Schmidt discuss ways Tori has grown because of this audition. Loepp also discusses what it is like to audition for major roles as well as her experience.
Tori Loepp
How did you find out about this opportunity?
My theatre director, Mr. Schmidt, told me about it.
What were your feelings like during your audition?
The girl that auditioned before me sang the same song I had originally prepared. But I was glad to have another song ready so I switched to another one at the very last minute.
How is working with the professional cast different from working with the school cast?
I actually won't get the chance to work with the professional cast until the day of the performance.
How you did you react when you found out that you were casted?
I was in choir and Mr. Schmidt came in, he had printed off a paper, pulled me aside and pointed to my name. I was really excited.
What other recent productions have you been a part of?
I love being involved in the plays and musicals at school. I used to perform with The Culture House.
Background in dance/music
I trained in dance for nine years and in voice for five years.
How long have you been involved in acting?
I have been performing in musicals since I was nine, but my first "real" acting started in high school at Southwest.
What was auditioning against so many other people like?
I have auditioned for a lot of things and sometimes you make it, sometimes you don't. The important thing to remember is that no matter what the result is, it has nothing to do with you as a human being. I was prepared to both win and lose.
Where/when are your rehearsals?
We have three rehearsals before the performance and they are held at Blue Valley North.
Dan Schmidt
Did you help her prepare for the audition?
 I helped her last year on her Individual Event performance for State & Nationals. She got most of everything ready for this particular audition.
What was your initial reaction when you found out that Tori had made it in?
I felt a mixture of emotions. These included being very excited plus extremely proud when I found out that she had made it in.
What progress has Tori made in her acting abilities?
Tori has definitely became more confident, poised, sure of her abilities and eager to try new things.
Roy Loepp
How do you feel about your daughter getting this opportunity?
Very excited and proud for our daughter to have this honor
What initially sparked her interest in getting involved with theatre?
Her sister's early involvement in theatre and her mother's encouragement were what initially sparked her interest in theatre.
How much time would you say that she dedicates to this specific production?
"I would say that she dedicated a few hours for [the] audition and maybe 4-5 hours of practice for this specific production."
Were you involved in acting yourself?
[Her] mom was involved in acting in high school because she liked drama. I've been in a couple TCH [The Culture House] shows as a parent draftee because they needed adult males.
Would you like her to continue with acting in the long term?
We want her to use her skills for a lifetime (not necessarily professional) for enjoyment and maybe teaching and inspiring others.
Leave a Comment