Wolfgong Auditions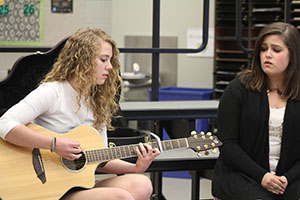 The Gong Show was an ametuer talent show judged by three judges. It aired on television from 1976 to 1980, but now Southwest is creating their very own version based on this show. On Nov. 8, choir students are putting on its very own Wolfgong for the fourth year in a row.
Wolfgong is a silly, scripted talent show that is "judged" by three teachers who may ring a gong any time they don't like an act. On Oct. 1, auditions began for the show. Wolfgong is put on by choir students and consists of solo and group performances.
"I like it because it gives kids a chance to do their solos rather than being with the whole choir all of the time," Choir teacher and Wolfgong director Susan Scheibler said. "It's goofy and students really have a good time with it."
Many students choose to sing in groups rather than alone. Senior Victoria Haas gets the joy of performing Wolfgong  with her father.
"Both my parents are musicians so I was raised in a musical house," Haas said. "I really enjoy Wolfgong as a time to bond with my dad over learning a song together."
Wolfgong gives students the opportunity to show of their individual voices that may otherwise be masked through the group of the choir.
"I love watching other people sing," Junior Romaric Keuwo said. "I've done it every year and I like to show people how my voice has improved."
This is simply the beginning of the Wolfgong journey. Although the event may be silly, the choir students put in lots of time and work to perfect their performance for the showing on Nov. 8.
"I like how it's serious at times, but fun and goofy at others," Haas said. "There's crisp, clean songs then there's ones that are meant to be funny and make the crowd laugh. I think it'll turn out to make a really great show."
Leave a Comment