Tank Top Tuesday Tradition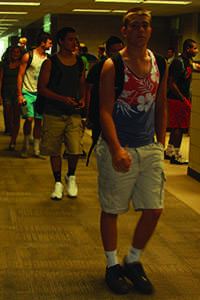 Tuesday is the day you start looking forward to the weekend.  Tuesday is the third day of the week, following Monday and before Wednesday. Tuesday is the day that people forget about. However, students have transformed the meaning of Tuesday with the tradition of Tank Top Tuesday. Every week, students flex their arm muscles and break out their tank tops at school. No matter the weather, participants stay true to the tradition.
"Tank Top Tuesday is helping us break out of the 'new school stage' and create our own traditions," Junior Anna Dickerson said.
The tradition is catching on not only in the high school, but Aubry Bend Middle School as well. Students of Aubry Bend followed Southwest's lead and showed their spirit on Tuesdays.
"We had Tank Top Tuesday in middle school too," Freshman Noah Frederick said. "I like it, and it's cool because the tradition is carried through the different schools."
Teachers and administration notice the growing school spirit and just ask that it stays under the dress code. The administration doesn't want it be ratty and become a distraction in school.
"I think it's great as long as everyone does it, and it's done in a clean and tasteful way," Assistant Principal Gary Howard said.
Nonetheless, Southwest is adding on to its legend. Anyone can participate, and it gives students a chance to promote spirit.
"I participate because it's cool to build our new tradition," Dickerson said. "I hope to see more and more people join and become one big Southwest family."
Leave a Comment