Students Take Advantage of School Opportunities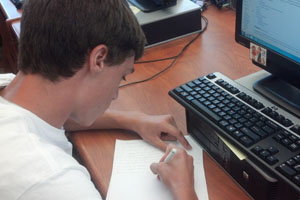 Going to a school like Blue Valley Southwest is a privilege and it's easy to understand why. Our school is filled with opportunities to challenge students and these opportunities include multiple strenuous classes such as Advanced Placement and honors courses. Our school certainly offers many of these type of classes, but why are they so important and how does the amount of difficult classes offered by our school stack up against schools nationwide?
AP courses were introduced in 1955 and the system is run by the non-profit organization, College Board. The purpose of the program is to give high school students a chance to take college level courses and examinations. Blue Valley Southwest currently offers 12 AP classes.
"AP classes really give you a feel for what college classes are like."AP European History student Corbett Oliver said.
The Washington Post recently did a study on what are America's most challenging high schools. The results were based on the amount of AP tests given at the school divided by the amount of seniors that recently graduated. With those numbers in mind, Southwest was ranked 6th in the state of Kansas.
"AP classes are one of the best ways to prepare for college level rigor," social studies teacher Michael Ortmann said."If the student wants to be challenged then an AP class is perfect."
At the start of the school year Principal Scott Roberts asked all of those who had taken or is currently taking an AP class to stand up. At least half the of the students in the stands stood up. Our school is full of students who are ready to take on the courses that one of the most challenging schools in the state has to offer.