female students share what it is like to participate in a stereotypically male activity
There is often a stereotype that comes to mind when the sport of weightlifting is mentioned. As time has passed, society began associating big muscles, toned bodies and weightlifting with the male gender. However, as time has passed more and more women are showing interest in the activity, and trying to spread the message that women are capable of the same things. Freshman Hannah Glynn has been involved in CrossFit since the beginning of 2018, when she quit soccer after 10 years of playing due to multiple concussion injuries.
"CrossFit is a mix of aerobic capacity of gymnastics, and lifting," Glynn said. "A typical day would be a dynamic skill warm up that may include handstand walks or handstand push-ups or pull-ups, and then strength work can be Olympic lifts, Powerlifting or just squats — pretty much every single lift you can think of. The workout will be a mix of all of those combined."
Glynn said she attends one hour classes about six days a week to train. She said she enjoys lifting because it gives her something to do each day along with living a healthy, fit lifestyle.
"[Lifting] can bring so many people together," Glynn said. "At my gym there are people as young as me to people in their 80s. The community there is really encouraging and you don't have to do what everyone else is doing, you just scale it to however you need to. You make it as hard as you want it to be."
In addition, Glynn said she was one of the athletes who decided to take CrossFit to the competition level.
"I personally compete a lot," Glynn said. "Over the summer, I did a few local competitions, I did one at my gym, I went to Minnesota, but there are competitions all around the country."
Glynn said there is a difference between the local and higher-level competitions. Local competitions are competed in teams, which are separated into RX, skilled and intermediate divisions. Glynn said higher level competitions are based off the athlete's age.
"Depending on the competition, usually the local ones last a day, the higher level competitions can last a weekend and the main goal of competitive CrossFit is to get to the CrossFit Games and that is five days," Glynn said.
Glynn said she competes in the 14-16 age division in which her favorite event is the Hero Rod Mur. This event consists of a one mile run, 100 pull-ups, 200 push-ups, 300 air-squats and then another one mile run. Knowing the social stereotypes of lifting, Glynn said she uses CrossFit as a way of empowering herself and others.
"I want to make myself the best I can be and to know that other girls want the same thing — they want to get stronger, they want to build muscle and they lift — that's good to know," Glynn said. "I know other people that have the same goals as that just play a regular sport and [don't] lift anything. I've been told 'You're a girl, you shouldn't have muscles. You're a girl you shouldn't be able to lift that much' but I just want to break that stereotype because yes, I'm a girl. Yes, I can lift. Guys aren't the only one that can, girls can too."
Junior Audrey Rips-Goodwin has been involved in Olympic weight lifting for four and a half years until recently when she took a break due to knee injuries.
"Olympic weight lifting is what you see in the Olympics," Rips-Goodwin said. "There's two lifts, snatch and clean and jerk and we do other lifts —compound lifts like squats, dead-lifts and pull ups in training, and then there's power-lifting which is squat bench and dead-lift. And then I am doing body building, but that type of lifting is the whole type of body, and that is more about the body and looking more physique."
She said she trained at the gym KC weightlifting with a coach until she became a satellite athlete and worked with a coach from Florida training at local gym: Adamant and CrossFit.
"I used to lift five times a week for two-three hours a day then I hurt my knee came back from that. Then, when I switched coaches they had me training less to build a stronger base because I over-trained for a long time and now I'm lifting four times a week for a few hours," Rips-Goodwin said. "[Weight lifting is] unique because [it is] not in high school. But the sport is definitely growing and now there's lots of girls and women in the sport, and maybe more younger girls than younger boys, but before, it didn't used to be that way. I guess it's different because you can use it to supplement other sports — doing snatch and clean makes you really extremely explosive in other sports but is also a sport itself."
Similar to Glynn, Rips-Goodwin said she also competes at the competition level.
"There's local competitions and for national meets you hit a qualifying total and you qualify," Rips-Goodwin said. "Then there's international competitions, which are like the best people in the country go to those. I've been to Reno, Philly, Austin, Texas, Des Moines, Michigan, Minnesota, Orlando, Nebraska."
She said the competitions take place on the weekends and are divided into age and weight sessions, with each session lasting for two hours. Rips-Goodwin said larger national competitions consist of multiple sessions in which everyone receives three attempts to demonstrate their clean and jerk and the snatch, and medals are given for each lift.
On a non-competitive level, sophomore Jalyn Dunlap began lifting weights just about a year ago after her dad got her interested in becoming fit at home.
"I just did weights to get stronger because I [play] basketball [and run] track and if I didn't do it in school then I would be doing it out of school," Dunlap said.
Dunlap said she chooses to work out four times a week for about a semester, and more during the summer — doing workouts that consists mainly of curls, bench lift, squats and dead-lifts. She said she likes doing workouts that focus on her strengthening her legs and arms because those are the muscles she uses the most. Dunlap said she chose to weight lift not for the fear of the muscles she would gain, but for the improvement of her own athletic performance. She said she thinks girls feel they shouldn't be weightlifting because they are afraid of the physical effects it will have on their bodies. But she said there are still possibilities of weightlifting and having a toned body at the same time.
"Weights are very empowering to women," Rips-Goodwin said. "I think girls are like 'oh I am not going to lift. I don't want to get bulky, or look like a guy' and I think that's completely stupid because [this is] your health and you're not going to look bulky or look [masculine] unless you choose to do so … and some of the best women I know, I met through lifting."
|ishapatel
About the Writer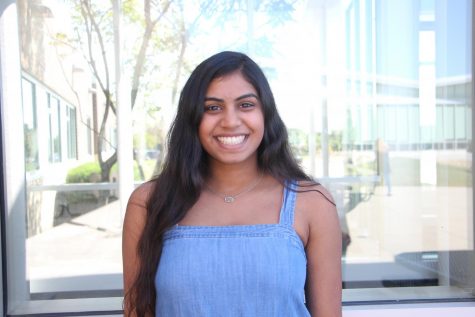 Isha Patel, editor-in-chief
Isha Patel | editor-in-chief