Launching lacrosse
This year, in addition to the seven other spring sports, the school added a lacrosse team to represent in black and green. After a decision to break off from the Blue Valley High lacrosse team, coach Ken Peterson decided to create a new team in representing Blue Valley Southwest. Among former Blue Valley players is senior JP Tymosko.
"Last year we had about 50 guys on the blue valley team and a bunch of the seniors had graduated and a bulk of the new players were from Southwest," Tymosko said. "The idea was to create a new team with the Southwest and Northwest kids and that's how the idea started."
Upon hearing this news, many students were excited to hear about the new team, much like sophomore Ian Keylon. While also playing for his traveling lacrosse team — KC Venom — Keylon said he played previously for Blue Valley as well for one year before receiving the news of Southwest's lacrosse team.
"I [am] super pumped because we get to play for our school and not another school," Keylon said. "We [are] able to have home games as well as the practices are going to be a lot closer on our field and just getting our own jerseys and helmets [is cool.]"
Keylon said he had only played on the Blue Valley team for one year, but has been involved in the sport since third grade. For other students, unlike Keylon and Tymosko, it is their first year playing for a high school team. Freshman Nevan Patel said he's been playing lacrosse for about five years and even played on the eighth-grade lacrosse team for Blue Valley last year, but said he was looking forward to playing for the school.
"[It is] very exciting [because] our school has never had a lacrosse team and it's going to be really fun to play for the school and some of my classmates are going to be on the team," Patel said. "It's a fun sport, keeps me in shape, has great endurance and is a fast-moving sport."
He said the sport's requirement of having sharp technique and ability to move quickly goes in hand with the purpose of the game.
"The objective of the game is basically to score as many goals as possible, more than the other team, basically the same idea of soccer," Tymosko said. "I really liked how it's kind of a mixture of all the sports like the contact of football, the high pace of basketball and the hand-eye coordination of hockey."
Tymosko said they are expecting around 35-40 players on the team this year, eventually splitting the team up into junior varsity and varsity teams under the supervision of Peterson.
"He's an amazing coach and knows a lot about the sport and is super fun to be around and always makes sure to get everybody included in the drills," Keylon said. "He has been super inspirational for me and all my teammates and is really pushing us this year."
Patel also said he likes how the coaching is player based — letting each player try out their own thing as well as supervised drills and more.
'The players are [also] really including and if you're having trouble with stuff, they include you and help you out as much as they can," Patel said.
The first game was scheduled for March 2. Patel said the games last about an hour and consist of four 12-minute quarters with 10-minute halftimes.
"[There are] nine players for each team on the field so three attack, three defense and then there's nine players for the other team so there are about 18 players on the field at once," Keylon said.
Keylon said he was excited for the new equipment the team will be receiving featuring the Timberwolves logo on them.
"Everybody has helmets which is something that everyone needs, then you need elbow pads and gloves, those a pretty thick and protective," Keylon said. "Then a chest pad for your chest and shoulders, and then goalies [wear] knee pads and stuff like that, and then cleats."
Tymosko said the team will be playing in the LAKC league which consists of all of the Blue Valley schools, some Olathe schools, Shawnee Mission East, Shawnee Mission South, the Park Hill and Lee Summit district, as well as private schools such as Pembroke and Rockhurst.­­­­
"At the end of the year everyone makes the tournament you can only take the top eight [to move on], it's a max of 4 games including the championship game so then the state semifinals are played at the Durwood stadium the UMKC stadium," Tymosko said.
He said the goal for this year is to get a chance to be able to go back and play in the state semifinals at Durwood stadium, after making it that far the past two years under the Blue Valley team.
"The end goal is always to win a state championship and I don't know if we going to be able to do it, but were going to try and just have fun, give it our best, and [be] positive this season and have a winning record," Keylon said.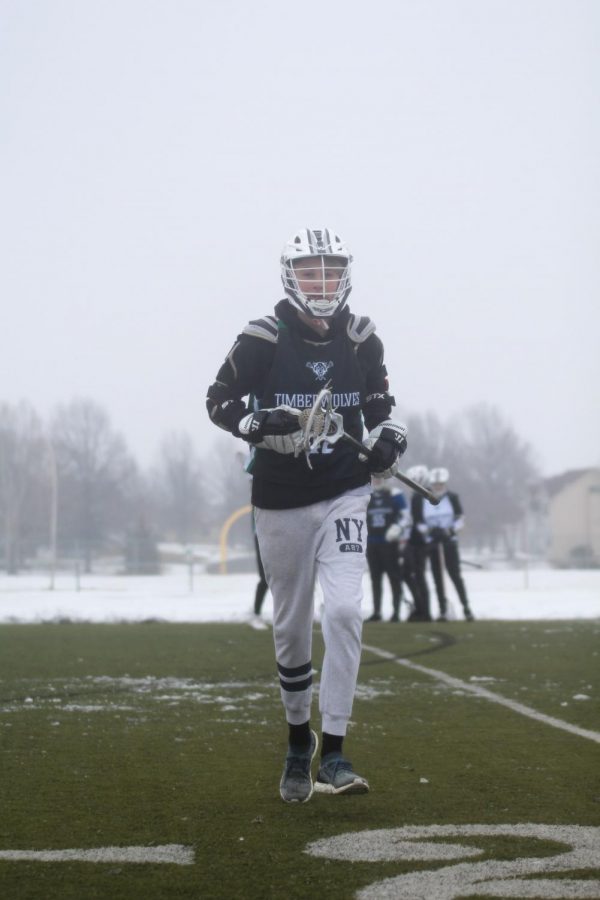 Freshman Ethan Boerner jogs down the other side of the field after practicing a drill where players passed the pearl back and fort with a partner on the opposite side.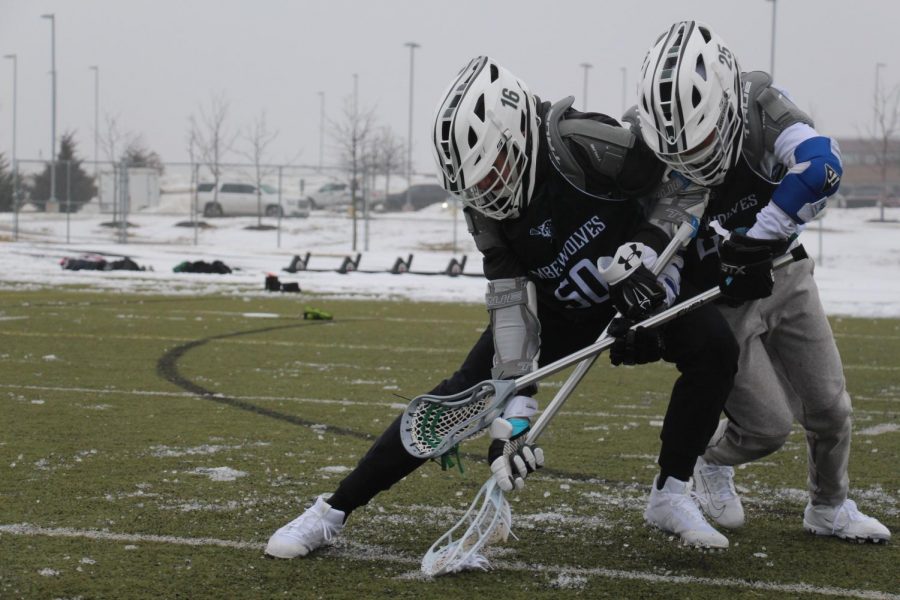 Freshman Nevan Patel and Chase Hartman practice a body check drill during practice, where team members fight to gain control of the ball.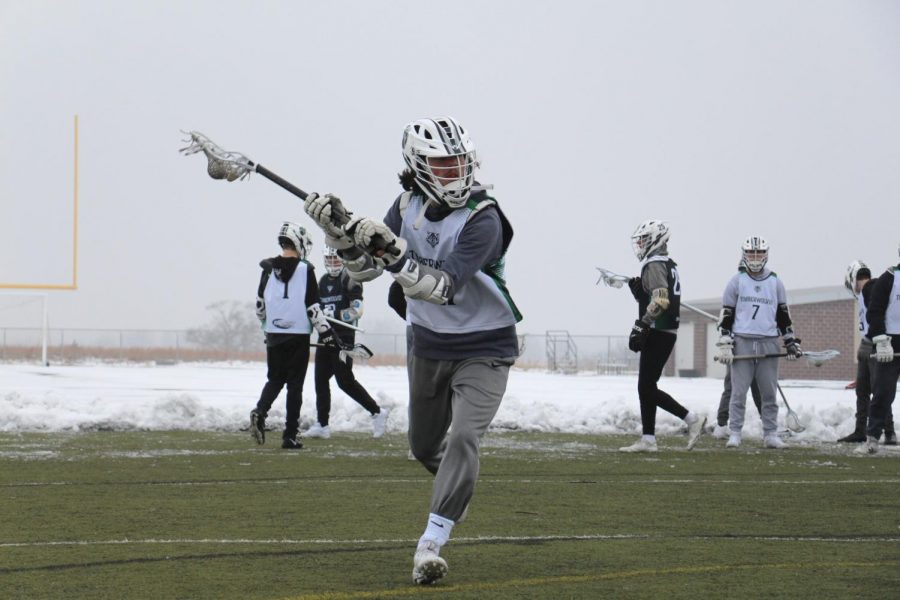 Junior Logan Baldacci runs across the field toward the box as he practices shooting goals.
| ishapatel
About the Writer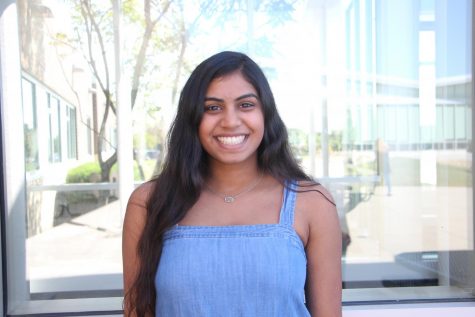 Isha Patel, editor-in-chief
Isha Patel | editor-in-chief