Home sweet home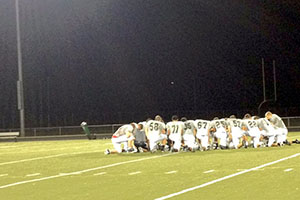 The home team intercepted the ball and sprinted towards the end zone marked with "Tigers". The Southwest student section erupted in cheers and began the legendary Southwest Rumble. Since opening in 2009, Southwest has called the Blue Valley Tigers football stadium its home. However, on Friday Sept 6, Southwest will have a new home; its true home. Due to scheduling conflict, The Timberwolves will play its first true home game on the practice field next to the school.
 "I think it's really nice for our kids to have a true home game experience," Teacher Joel White said. "Even though they consider games at the Blue Valley stadium to be home games it feels like a road game all the time."
 It's not likely that the football team will have another game at its home again. Since this is a rarity and the game is so close to home, many fans are expected to attend.
 "I think people will be more enthusiastic and more people will show up," Junior Justin Hicklin said. "This is a great first game to get people excited for the new season."
 Students have began planning and getting excited for the game. There is an outdoor pep assembly planned for that day. Student are expected to be dressed in all Southwest gear to school and the game for the theme. There is also a tailgate hosted by student council prior to the game at 5:30. The community is anticipating high energy and spirit for the first home football game ever.
 "I'm really excited to be representing our school," Freshman Emma Hanny said. "I really think that everyone will come together for this game and it'll create such a positive and energetic atmosphere."
Leave a Comment