Fantasy Football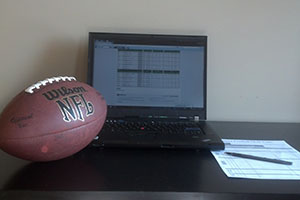 Most of the 59% of Americans that watch the NFL will never have a chance to strap on a helmet and pads and run on the field in front of thousands of screaming fans. Most will not get the chance to manage an actual NFL team from the front office from a stadium. That's why fantasy football is so popular.
Fantasy football is a game that can be played online. It offers normal civilians a chance to draft actual current NFL players onto their team. The way the players that are drafted perform in their actual NFL games determines the score of a fantasy game. These games are head to head with someone else in the league. Fantasy football is also quite popular at Southwest.
Fantasy football is fun because it's competitions with my friends," sophomore Drew Havens said. "I tend to always win."
Fantasy football can get real competitive. In more serious leagues cash prizes can be one for finishing first at then end of the season. Southwest students just play for the fun of it.
"I love the NFL even though I'm a girl,"senior Brandi Huesman said. "I have a lot of fun doing it."
Fantasy football has been around since the 70's and is still extremely popular. It's called fantasy for a reason, but it certainly gives people another reason to be competitive with one another.