Concert Review: Tour de Compadres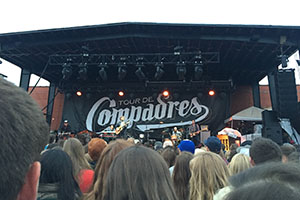 I had a countdown on my phone for this day since the end of February, so when it finally came, I was ecstatic. It was a dream to have my all-time favorite singer — Ben Rector — and the astounding NEEDTOBREATHE in one concert. So, I excitedly awaited for April 25 at 7 PM with the other 3,000 people to attend this sold-out show.
The concert was at Crossroads KC, which is an outdoor venue in Kansas City. The urban atmosphere gave the venue a really cool feel; everything looked rustic and inviting. Various restaurants surrounded the area, and many people stopped in Grinders before or during this concert, which is a restaurant that's directly attached to the Crossroads venue. Although it was cloudy and misting during the concert, the location was prime.
The concert started with the band Colony House from Nashville, TN. I had not known their music prior to the concert, but their songs were upbeat and fun. As soon as I got home, I downloaded their most popular song "Silhouettes." They were very talented.
Next, Drew Holcomb and the Neighbors took the stage, and the lead singer, Drew Holcomb had a very smooth voice. Holcomb looked very classy sporting an impressive beard and a signature hat. He kept the crowd engaged as we sang along to "Here We Go" without even knowing the song existed before that day.
Thousands of girls screamed around me as soon as the love-song-singing artist, Ben Rector, showed his face on the stage, pounding the keyboard for his opening song "White Dress." The heart throb put on a fantastic show and was very personal with the crowd. He sang a new song from his new album called "The Men that Drive Me Places," which Rector explained was inspired by his taxi drivers when he travels for shows.
After Ben Rector finished, the stage crew prepared for the main act, NEEDTOBREATHE, to take over. The band started strongly with its song "State I'm In." The lead singer, Bear Rinehart encouraged the crowd to sing and dance to keep warm on the chilly night and that the crowd did. With the strong guitar and upbeat songs, the audience couldn't help but to start grooving. The band was diverse, though, and also slowed it down for some meaningful songs. Rinehart joined the crowd to sing his song "Difference Maker," and everyone intensely listened, inspired by the lyrics.
NEEDTOBREATHE exited the stage with their pretend finale, and the audience patiently waited for their return. The band bursted back on stage to sing their popular song "Brother," and in the middle of the song, all the musicians who opened for NEEDTOBREATHE joined them on stage. All of the group truly seemed like they were friends as they shared this moment with the crowd. Confetti erupted to signal the ending of a great night.