Senior Lucy England plans to continue barrel racing and rodeo at the collegiate level
Horseback riding has been a popular pastime for many at school but one student has decided to take it a step further Senior Lucy England has plans to continue her background in rodeo and barrel racing onto the collegiate level next year at Fort Hays State University in Hays, Kansas.
She said she has been riding ever since she was 4 years old starting off riding English style and then became interested in the Western style when her mom bought Lucy her first horse, Ted, at the age of 6.
"[When] I turned 13 or 14, I really started to mature in my riding and be like, 'Oh, I can do this. I definitely want to grow and want to do this," Lucy said.
She said she first start barrel racing in eighth grade and prefers it over rodeoing due to having better ground to race her horses on.
"I barrel race more just because there's a lot more local jackpots," Lucy said. "I'm not saying there's not a lot of local rodeos — because there are — but you always hear barrel racers complain about bad ground regardless because we care about our horses' legs."
However, this isn't the case all the time.Lucy's mom, Janette England, said there are always risks being taken when racing.
"They're always risk there," Janette said. "I don't know anything that you do that doesn't have a risk … there have been deaths associated with barrel racing. Accidents happen. The horses get hurt. People get hurt. Definitely there's danger in it."
Over the summer, Lucy said she came close to having an accident while riding Ted.
"If a horse doesn't stay square going around a barrel and their shoulder drops, then it causes their whole body to kind of flop over them so they can roll and I rolled multiple times that was the scariest just because I could feel the trip when I went in and I knew he was going down and my feet touched the ground," Lucy said. "It was kind of weird, but he didn't roll on top of me. He stayed square and kept me safe."
Lucy said she practices riding at a barn near her house off of 270th and Mission Road where she boards her horses and keeps all of her equipment. With the weather currently changing, she said tries to go out and practice almost every day depending on her work schedule, spending about an hour with each of her current three horses.
"I'll work in mud; I love working in mud especially with colts because they're learning how to get [their footwork], and how to move in mud," Lucy said. "It really just helps them, and it's a good exercise because it's like running through sand for us and it's so sticky."
Sometimes, Lucy said she needs to work on technique, speed or posture in her runs which is when an indoor arena would come in handy to practice in.
"There's some indoor arenas around here that cost us, per horse, like $10 or something. Sometimes it's $20 a truck and you can have however many horses and I'll go to some of those barnes and work horses and lights and everything," Lucy said. "Winter is really hard because it gets dark super early. I'm riding at like nine o'clock at night, and hoping I don't run into anything. That's why these indoor barns are great, too. It's just hard to find them because there's not a lot around here."
When it comes to racing, Lucy said there are different objectives of barrel racing, so the barrel pattern is a cloverleaf pattern.
"You can either go left, right, right, or right, left, left, and all those turns are being made on the inside. So you have to go all the way around and complete a circle," Lucy said. "When you're training horses, it's really important that they finish that circle. Because if they don't, that's a waste of time, because you also remember that but also that can put you in more danger going in."
Lucy said there is a five second penalty given for each barrel that is knocked down at barrel breakaways. However, in actual barrel races, Lucy said the rider is disqualified immediately if a barrel is knocked down. In the end, the rider with the fastest time wins.
Senior Lauren Peak, a close friend of Lucy, said she enjoys attending competitions and watching Lucy ride. Peak said she learned to ride by taking lessons from Lucy's former coach at the barn she practices.
"She usually brings three to four horses when she goes, so she's always going out and warming horses up and then bringing them back and then getting them settled and ready for competition," Peak said. "Usually, she'll have me warm some of her horses up or just get them tacked up."
Janette said she tries to support her daughter in any way possible by attending her competitions, watching her runs and even ride with Lucy.
Peak said the atmosphere at competitions is crazy but the people are energetic and happy and willing to talk to each other.
"I think it depends on how many horses she brings and just like the certain competition, but the times I've gone, it has lasted probably five hours," Peak said. "I think we've been to a couple in Louisburg and Wichita. She travels to Oklahoma sometimes for barrel races and I know she's gone to Texas as well."
For rodeo competitions, Lucy said entrance is broken down into different levels.
"You have your amateur like, yeah, I'm here. I'm doing well or you have like your pros, and there's college level as well," Lucy said. "Amateur is kind of like what's around here. There's also like little riches rodeo, which is specifically for like kids under [the] high school level, like both ages can't compete there."
She said there is also a high school division for just high school riders which is split by each state and the National High School Finals takes place in Wyoming. As for college rodeo, it is split in divisions such as the Central Plain region, Big Plains region and more depending on which state the rider lives in. Pro rodeo is similarly structured to college rodeo, split into divisions by regions.
She said depending on how you perform money and points rack up qualifying some to the pro rodeo National Final in December in Las Vegas, Nevada.
Her mom said it is "amazing to watch her from the time that she started riding and watch her progress over all these years and now to see her controlling the horse that used to control her" at these competitions.
For Lucy, she said the next competition season is going to be crazy because she will be riding her colt, who is currently in training in addition to the two horses she already competes with.
"He's 3 and then I have a 14 year old and a 17 year old, And so I want my 14 and 17 year old at races all the time, but I take all three and I expo my colt which is basically like practice runs," Lucy said. "I'll kind of be doing a little bit futurity on my colt which is basically [competing with] horses five and under," Lucy said. "There's different levels for that. But [I will] also be going to a little bit rodeos with them since he's going to be expected to go to college rodeos."
Janette said her favorite part to watch in the competitions is the competitiveness.
"[I like] Watching the way people control their horses, [and the] speed involved in order to [have] agility," Janette said.
Lucy said her favorite event every year is the St. Jude's barrel race in St. Louis. She said contestants ride to raise money for St. Jude's hospital and for raising a certain amount of money. Prizes are awarded to the riders.
"The first year we went, it was 2017 and I raised $5,000," Lucy said. "The first year I did it and won a saddle from it, and the next year I raised over $2,000 and got a belt buckle for it.
Lucy said she enjoys this event because of the friendly atmosphere and the nice people she meets every year. The objective is to raise money for a good cause and she said if a barrel is knocked over or someone had a bad run, you recover quickly because it all about riding for fun.
"It's just great because everyone is there to help the same cause and everyone's so supportive, which I really love," Lucy said. "When you win money, it's always great regardless of if you're fifth division last place, or first division first place, right? It's great either way, because everyone's so supportive."
When is comes to Lucy's riding and decision to continue at the collegiate level, Peak said she is excited to see all of the great things Lucy does and is glad she is continuing with her passion. Janette said she is happy as well and thinks it is great and is something that can stay with Lucy for the rest of her life.
"For me, mostly [riding has] really built my self confidence and really helped me grow as a rider, and I've met so many great friends and everything [from it]," Lucy said.
|ishapatel
About the Contributor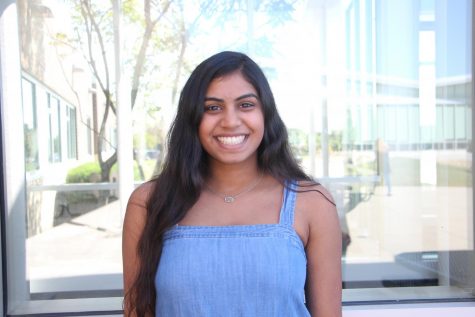 Isha Patel, editor-in-chief
Isha Patel | editor-in-chief