Seniors Luke Scott and Ben Guenther Join the Armed Forces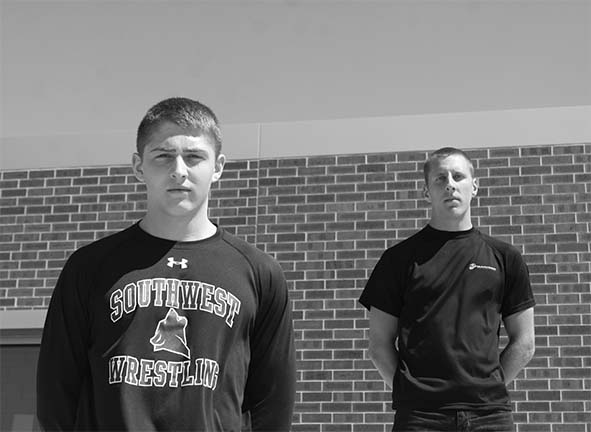 Amongst the frantic voices of the news anchors and the relentless footage of the twin towers collapsing, a little boy stares at the TV in shock. He envisions the innocent men and women that lost their lives on that day, and he also thinks about the firefighters risking their lives to help others. He notices the American flag standing tall in the frame and waving through the smoke and rubble. To people who serve our country, the stars and stripes symbolize a promise to one's country — a promise to serve and protect one's homeland. That is when senior Luke Scott knew he wanted to protect America from such a tragedy in the future. Along with Scott, senior Ben Guenther is committing to that promise and is joining the armed forces after he graduates.
"Serving my country means giving back for what it has afforded me: liberty and opportunity; these are things that I want to preserve for others," Scott said.
Scott has known he wanted to join the armed forces for a long period of time; it's something that has always been in his life plan. He will be joining the Air Force. He will be attending the US Air Force Academy for four years before going onto active duty.
"I don't remember any time in my life where I didn't think that I would join the military, so it's not really that overwhelming of a life change," Scott said. "I always thought that this is how it would be. It really just feels like what's next in my life."
"We were proud that Luke wants to serve his country in some way when he leaves high school," Luke's mother Karen Scott said. "Like most young boys, Luke always wanted to grow up to be a firefighter; he really respected the men and women that saved lives every day. I know it saddened him deeply that many of those brave firefighters lost their lives on that long day of 9/11 — along with many innocent men and women — and he knew that he wanted to [now] protect America from such a tragedy in the future. That year [in Kindergarten] for Halloween he dressed up as a military pilot and has always wanted to be one ever since."
Throughout a person's life there are always moments of clarity, and for Luke 9/11 not only swayed his decision to join the armed forces but also inspired him to protect America and take the promise to keep his country safe in any way he can.
"I distinctly remember 9/11; it had a huge impact on me when I was young, and since then I knew that I wanted to serve my country," Luke said. "I remember coming home from school early that day and nobody really knew what was going on. I just remember them playing the footage of the twin towers on the TV over and over again and it really had an effect on me; especially watching the outcome. It was such a big event that had a deeper meaning to a lot of people."
For Guenther, he knew in fifth grade that the military was what he wanted to do in life and was his true calling.
"Ever since fifth grade I've known I wanted to join the military especially since a lot of my family has served; so, at that point in my life, I knew it was just something I wanted to do," Guenther said. "The only thing I had left to decide at the time was which branch to join."
Guenther decided he will be joining the Marine Corps because it has more of the job setting that he is looking for; he wants to join the Infantry and then move on to marine force reconnaissance. His ultimate goal is reconnaissance, where soldiers goes out and positions themselves outside of a town and watch and take photos of the enemy.
Gunther has three months of boot-camp and then he'll go to San Diego for school of infantry and then possibly reconnaissance school after that. He will have about a  year of training before getting deployed. There is a possibility that later on in life he will go to college.
In comparison, in order to serve in the Air Force, Scott must spend time training both physical and mental aspects. The training is eight weeks and will mostly be a lot of things such as discipline and general knowledge. There are only about two weeks doing actual military training. Scott will leave June 26 for inprocessing day.
Scott will be attending the Air Force Academy which is a four year college program where Scott will go there to receive his college education. He will receive his military training first then once he graduates from the college portion, he'll move into the the job specific training.
When deciding to join the armed forces there are many factors that go into the decision such as family background. Luke's father was in the Army, he was a Cobra Helicopter pilot; he served seven years. His uncle was in the navy, and he has grandparents and great-grandparents who served in various branches.
Gunther has a great-uncle who was in the navy, a grandfather who was in the navy, another grandfather who was in the army and a cousin who is currently in the navy.
Parents are generally heavy hearted to see their son or daughter leave for college, however the parents of a son or daughter leaving for the armed forces are proud of their child for serving in such a well respected field especially when the family has a history of serving.
"We were concerned early on with his interest in the military and his response was always that he wanted to serve his country and it was, 'what he was being called to do,'" Ben's mother Lisa Guenther said. "How could we not support him when he was joining for such a noble reason."
"We want him [Luke] to be happy, safe and healthy first and foremost," Karen said. "We hope he works hard to attain his degree of choice, Aeronautical Engineering. We hope the Air Force Academy is everything he hoped it would be when he applied. I hope he will continue to work hard for his country and not take for granted this unique opportunity that has been granted to him."
There are many worries and fears that come with joining the armed forces.
"My biggest fear is probably the competition because everything is a competition and just being able to keep up with everything and being able to excel in everything that I do," Scott said.
Guenther isn't as worried about the actual combat, he's more worried about the people back home.
"I'm fearful that I won't have friends at home that I can come back to," Gunther said. "Of course I'll have my family but I want to have friends that I can come back home to after potentially being at war."
However, there are also pros to serving our country.
"I'm looking forward to being shipped out to different places," Gunther said. "I could be stationed in Okinawa, Japan but for the most part I'll be in San Diego or Camp Lejeune in North Carolina so I'll be able to visit a lot of new places which is really exciting."
Tomorrow isn't guaranteed; soldiers in the armed forces spend their days risking their lives to ensure that our freedoms stay unrestricted.
"Freedom to me means having the rights that we do, unlike other countries, and being able to protect those rights," Guenther said. "You'll hear a lot of people say 'the soldiers are out fighting for our rights' and people will retaliate and say 'well we already have our rights so I don't know what they're fighting for.' I want to fight to protect rights because even though we already have them, it's just like everything else and they could be taken from us. That's why I want to serve so I can preserve what we are fortunate enough to have."
Leave a Comment