Girls and Guns
Senior Lindsey Ennen takes aim, croutching in the tall plains of Pratt, Kansas The gun cackles. The dog at her side looks up at the sky. The pheasnt drops from the air and a smile forms on her face.
"Hunting is a huge part of my family," Ennen said. " My dad and my brother always had a special connection, and I never really figured out that the connection was hunting until I grew into it too."
Ennen wasn't intrigued by hunting until she started high school. However, her newly gained interest had to be shelved while her father was recovering from his illness.
"When I finally took interest, my dad got diagnosed withcancer, and I wasn't sure whether he'd ever be able to take me," Ennen said.
Nonetheless, her father's health changed for the better.
"After he went into remission, he took me deer hunting for my first time," Ennen said. "Sitting in that deer stand with him was a special moment that I'll always remember."
For Ennen, the reasons to continue on this family bonding activity are numerous.
"I love the feeling of power it brings and I feel so relaxed every time I step into the fields," Ennen said. "It's a part of my life and every experience is special."
More and more women are starting to hunt. According to Census Bureau Statistics, the number of women hunting rose 25 percent from 2006 to 2011. While men own the majority by far, the number of female hunters is increasing.
Freshman Grace Bottaro has been hunting all her life. In her family, hunting isn't just an activity — it's a lifestyle. Bottaro's family is so dedicated to hunting that when their house was built, they installed a special deckoff their back-porch for shooting.
"Hunting isn't just something I do; it's a part of who I am," Bottaro said. "I love the challenge of outwitting the animal, and a lot of the reason I do it is to simply watch nature."
Like many hunters, Bottaro enjoys the excitement that comes with hunting.
"The rush of adrenaline you get when a big buck walks out is insane," Bottaro said. "Hunters call it buck fever.  I usually get it, and I start shaking really bad."
Hunting season never seems to end for Bottaro. She keeps herself busy by hunting a variety of game and has hunted for deer, turkey, squirrel, rabbit, raccoon, opossum, coyote, pheasant, quail and bobcat.
"Hunting has definitely taught me patience," Bottaro said. " It's not fun going home without seeing any game, but that's just part of hunting."
Last spring a hunting show asked herif it could film her hunt, and she succeeded in killing a trophy turkey.
The Kansas Department of Wildlife holds workshops that teach women wildlife recreation skills such as hunting and fishing. These workshops are titled Becoming an Outdoors Woman (BOW). The goals of these conferences are to give women the necessary skills and knowledge to participate in outdoor activities.Outdoor outfitters such as Cabela's are also noticing the rising trend of female hunters and are coming out with more hunting clothing lines for women.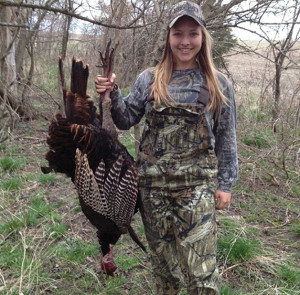 Sophomore Riley Swickard relishes every chance she gets to hunt and to take part in one her family's traditions.
"I don't usually go down to the farm with my dad and brothers because I, of course, am a social teenage girl that likes to spend her weekends with friends," Swickard said. "However, if I ever get the chance to go, I normally go to my grandparents property or to some of my Dad's family friend's property out in western Kansas."
To her, hunting is a bonding time and a chance to get close to family.
"I think the main reason I enjoy hunting is because I get to spend time with my dad," Swickard said.  "Hunting isn't a common thing between girls, and since I enjoy it so much, and my dad is not one to go shopping with me, we get to both spend time together doing something we love."
While men continue to make up the majority of hunters in this country, the women starting to take up this generation's past time are certainly embraced by the hunting community.
"I love hunting for so many reasons," Ennen said. "I love nature and enjoying what God created. I will admit hunting is more popular with guys and not too many girls are interested. That doesn't bother me because — for me — it's more of a family activity than anything."