Behind the Scenes of Adam Schifman
From the quiet environment of the sound booth in the performing arts center (PAC), setting up the microphones for the actors and actresses in the latest school play, to the overwhelming and throbbing setting of a club, Senior Adam Schifman is responsible for everything sound and lighting. He is a business owner with employees twice his age. However, he's also a student and is very involved in school events and activities. At a young age Schifman knew his passion resided in audio and lighting and has been pursuing it since he was eight years old.
"In the third grade I moved from Arizona to Kansas," Schifman said. "I had realized I was interested in sound and lighting at that point in my life, it intrigued me as a kid. As I moved to high school level I still enjoyed it a lot and wanted to be involved in everything regarding it ."
Schifman owns his own company that deals with audio and lighting. He took his passion and created his company APAR [Adam's pro audio rental] so he could experience what he loves to do everyday. He works after school and visits multiple sites to assist them with setting up for their events.
"I own a company that specializes in lighting and sounds," Schifman said. "I come in and do onsite technical management. We are hired by clubs or performing arts centers and what I do is provide the lights and sound and whatever other technical source the exterior companies need so they can prepare for their presentations or shows and don't have to worry about the lighting and sound for their show."
He started his company when he was 15 years old, and a year later the company took off. He was a standalone company owner at age 16.
"I had an inspiration to start a full service audio company that could do everything at a reasonable cost and have the best customer service starting at even a basic platform," Schifman said. "I started by talking to the best people in the business on how they became successful. I talked to everyone that works in the KC area that does what I do. Also, due to my parent's connections, I was able to have a meeting with the world's largest audio and lighting company [production resource group]. They were my inspiration."
Schifman works year round. He has five trucks so his employees can go to multiple sites. His employees include engineers, designers, audio designers, contractors, an installation crew and he also has a full time mechanic. He has 15 full time employees and three part time. He found his employees through referrals of people that are in his field. They vary in age between 22 to 43.
"For Adam's company I mainly help him out with organizing the events and assisting with whatever he needs; whether that be running the store to grab something or helping him set up before the event, I'm almost like his personal assistant, if you will," senior Keaton Fahnholz said. "It helps me with my career, considering that I might go into a mass communication degree. The audio aspect has really helped me out because when I'm with him [Adam] I've learned a lot about how audio and lighting work and it's really given me another perspective on how all of the equipment works and it expands my career choices if I ever decide to do something else."
In addition to owning his own company, Schifman also helps out around the school. His primary station is in the sound booth in the PAC.
"The start of high school was just around the time I wanted to start my own company, so I figured helping out the high school would be great practice for me," Schifman said.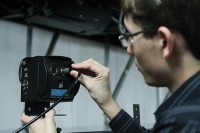 Schifman is responsible for all things regarding audio and sound around the school, particularly in the PAC. He helps multiple departments of the school, such as theatre and choir, prepare for their performances in the PAC, as well as make sure that all things technical are set up and ready for the events. He has been trusted to crawl around the catwalk above the PAC and change lights since he was a freshman. He says he is held to high standards and is assigned difficult tasks.
"I manage all the events, sound and lightwise, that come into the PAC," Schifman said. "Whether that be regarding theatre such as plays, band concerts, teachers meetings or out of school performances or presentations, I am in charge of running the lights, having things ready. Everything on technical side I am responsible for. What people don't know is that I'm not just in the PAC; if the school needs help setting up audio or lights for games, assemblies or if people need help setting technical things up in general, then I'm there to help them."
Schifman especially helps the theatre department. He is responsible for all of the backstage work that takes place in relation with audio and  occasionally lighting. Theatre director Dan Schmidt relies heavily on Schifman to make sure their productions run smoothly.
"Adam is our sound guy, he sets the audio up and runs it for the shows," Schmidt said. "He's in charge of running all of the microphones, sound effects, and sound reinforcement. Adam does things in the evening time where we have set up that I couldn't possibly do because as a director I'm only here until six or so; he is able to step up on some of those evening time performances. His knowledge base is also very large in regards to sound hook up and sound connections so if there is a problem he is able to troubleshoot very accurately."
In third grade Schifman knew what he wanted to do, and now as a senior in high school he has the privilege of doing what he loves everyday.
"I feel proud of myself for being able to run a business and be completely independent without even my parents' help," Schifman said. "I like being in charge of a group that has a goal at hand that can achieve whatever is asked of them. Also, I like owning a professional service and helping people. It took a lot of hard work to get where I am today, but it all paid off. I couldn't imagine myself doing anything else."
Leave a Comment
About the Contributors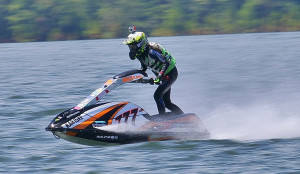 Anna Glennon, Photo Editor
My name is Anna Glennon and I am one of the seniors that are on staff this year. This is my second year as a photo editor for the Standard.

I don't...