Setting up for success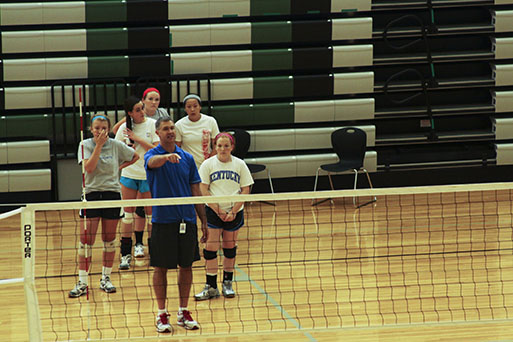 Over 19 years of playing and over 20 years of coaching, he has shared his successes with his players. He has taught them to push themselves to be the best that they can be so they, too, can grow to love the sport and achieve victories of their own.
   Matt Sonnichsen has had many successes in his volleyball career, both as a player and as a coach. Before entering the coaching field he was a standout player. He was a four-year letterwinner at The University of California, Los Angeles [UCLA,] where he was a Three-Time All-American setter and led the Bruins to NCAA Championships in both 1987 and 1989.
   He also was named the MVP of the 1989 National Championship. After competing with the U.S. Senior National Team and an international tour of Japan, along with a domestic tour with the Russian National Team, he went on to play professionally for five years on the AVP Pro Beach Volleyball tour. In addition, Sonnichsen won two indoor Swiss Volleyball Championships playing for Lausanne and Nafels, and participated in two European championship tournaments competing in France, Slovenia and Romania.
  "Volleyball has been the common factor in my travels which makes it much easier to get a true feel for a new area," Sonnichsen said. "It creates a whole new environment having another volleyball player/coach to help guide you and show you so many things that you would never experience if you were a typical tourist."
   Coach Sonnichsen has just recently retired after 15 years of being an NCAA Division I Head Coach. He has approximately 20 years of NCAA coaching experience in total. He has coached for the University of Tulsa and Louisiana Tech. He has led all of his teams to incredible seasons. After all of his years of traveling around the world, he decided to move to Overland Park because it is closer to his family.
  "I joined NCSA [National Collegiate Scouting Association] Athletic Recruiting, when I decided to step away from collegiate coaching last year, and NCSA allows me to live wherever I want," Sonnichsen said. "We believed Prairie Village would be a great place to settle into."
   This is Coach Sonnichsen's first year coaching high school players. There are many differences between the players: such as physical aspects and experience levels.
  "I'm used to coaching collegiate and professional athletes," Sonnichsen said. "The skill sets are less developed at the high school level and we [the coaching staff] will work to strengthen those skills to better our players."
   The coaches all have had experience playing and coaching the sport. All of the other coaches have played collegiate level volleyball. They know what it takes to make it to the more advanced levels and they push their players in order to shape them into more skillful individuals.
   "We want all of the players in our program to work hard," Sonnichsen said. "I want them to apply what the coaches tell them. We are very blessed here I have a very rich and deep volleyball history, but our other coaches have also played collegiate level volleyball. Our program is very lucky and we have people who know what they are doing so we want our players to do what we tell them to so we can make them better. Also, we want to always remain positive."
   Although he is now coaching younger players, Coach Sonnichsen has the same expectations as he does for his more experienced players. He has set the bar high for his teams.
   "Our varsity goal is to win every match we play," Sonnichsen said. "By extension, winning every match we play means that we are going to win the State Championship. That is our ultimate goal. For our other teams we are aware of trying to win but we want to continue to develop skill sets so that they can grow into good varsity players."
   The incoming members are expected to someday fill the shoes of the current varsity members. Coach Sonnichsen has a great deal of insight on how to someday make his players successful, high level athletes.
   "With my years leading up to varsity I know I will learn a lot from both the players as well as coach Sonnichsen," freshman player Donna Armstrong said. "I'm looking forward to working hard in order to eventually make it to varsity."
   Bringing in a coach with so much experience not only as a coach, but also as a player is nothing new for the Blue Valley School District. However, Matt Sonnichsen differs from the others due to his professional level of playing. This is the first coach in the district to have played for the USA team.
    "It is an honor to have him coach us," sophomore and varsity player Lexie Penichet said. "He has so much experience at the sport and really knows what he is doing. I feel like he will take our team very far this year."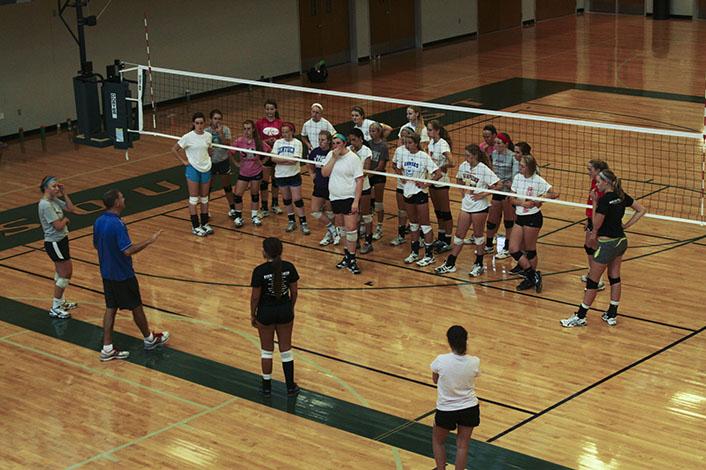 Leave a Comment
About the Contributors
Charlotte Davis, Photographer
Hey guys! My name is Charlotte Davis, and this is my first year of newspaper. I didn't take journalism, so you all are going to have to bear with me and...