Taylor Starling joins Blue Valley Southwest High School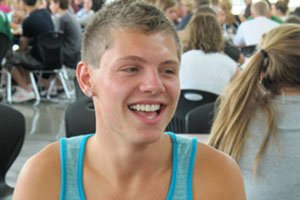 Senior Taylor Starling left the Blazers of Gardner-Edgerton High School to become a Southwest Timberwolf just a city away. Starling, who moved in with his mom this year, chose to transfer to Southwest for many reasons.
"I didn't want to drive 20 minutes every single day to get to school," Starling said. "It wasn't worth it. And I already knew people here, so I wasn't coming to school not knowing anyone."
Starling, who spent his past two years in a different high school, has seen many differences between Gardner-Edgerton and Southwest.
"Everything [is different]," Starling said. "The advances in technology, and it's more confusing. The school's bigger and there's less students here."
Although he chose to attend Southwest for his senior year, starting off in a new place wasn't easy.
"The first couple of days, I didn't like it and wanted to go back," Starling said. "I missed all of my friends and I didn't know anyone."
Originally, Starling was supposed to attend Blue Valley Northwest, but decided to transfer to Southwest instead because he knew students here.
"Not knowing anyone at Northwest just intimidated me, considering it was going to be my senior year," Starling said.
Since he only lived there for two years, Starling has a view of the world outside Gardner.
"There's more to do up here, but since I lived here basically my whole life until my sophomore and junior year, I knew life outside of Gardner," Starling said. "But people that live in Gardner think that it's just the best place. They don't understand life outside of Gardner and the stuff that you can actually do."