Q&A with senior Angela Fornelli
Senior Angela Fornelli uses her seventh block to teach the eighth grade band at Aubry Bend. She uses this time to both practice her own instrument and teach, working toward her goal of becoming a music teacher.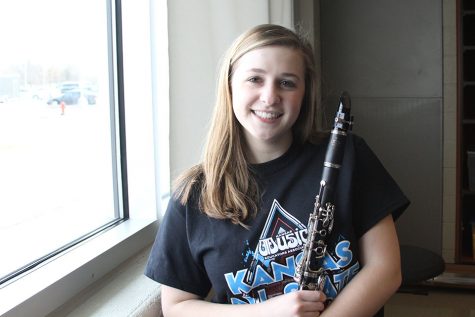 What is your seventh block class?
At least once a week, I go down to Aubry Bend, and I either play my instrument or I help with the music [the eighth grade band] need to work on. I can do individual stuff, like clarinet lessons, or I can work with the whole group. It just depends on what the teacher wants or what they need to work on.
What is it like teaching middle schoolers?
It is very different from high schoolers, that's for sure. We have the solo & ensemble on Thursday, and they have more options [for ensembles] for what they want to do; they have a trombone with a clarinet and a euphonium. That is really interesting.
Why did you decide to do this?
I want to be a music teacher, and [band director Ed] Protzman offered this to me. I just thought it was a really good thing to get the idea and start practicing before college.
Why do you like teaching music at the middle school?
It has been really fun; it brings back band memories from middle school. I've already learned a lot and it is a really cool experience.
How has this opportunity helped you?
It has helped me realize more that I want to continue teaching music. I've just enjoyed helping kids. It's reassuring.
Why is music important?
Music is like a language that everyone in the entire world can speak. No matter what language you speak, it is just an understanding as a whole. There is no other thing that can do that. It is a way we can all connect.