Twins explain their unique relationships
Sitting in their basement, freshmen Maya and Marissa Mondock rifle through old sheet music. Maya grabs her saxophone and Marissa her clarinet, and together they play through the music, remembering the practice that went into each and the performance, not only with the band but with their sibling.
Marissa and Maya are one set of twins at the school where they participate in many activities together. From a young age, they said they have gotten along with each other and are best friends.
"We have our fights, but it normally ends with us laughing at each other," Maya said. "We just fight about small things — we never fight about anything really big — and we usually end up resolving it in about five minutes."
Since they get along, Maya said there isn't really a downside to having a twin. Marissa said having a twin is like "a built-in friend."
"If you're at lunch and there's no other friends there, you just sit with them and it's fine," Marissa said.
Marissa said they spend a lot of time together, especially since they are the only siblings left at home. Since they said they do everything together, Maya said they have a lot in common, from personality traits to favorite activities. Both girls said they enjoy playing their instruments, listening to music, playing cards and watching "The Office."
"We like the same music, and we pretty much have the same personality," Maya said. "I like some things that she doesn't, like volleyball and different hobbies, but it's OK because you have to be different or it would be weird. You have to have something that makes you different from your sister."
Despite some differences, Maya said she loves being a twin, and her life would be empty if she didn't have one.
"[The best part about having a twin is] having someone always there," Maya said. "It's not just because it's awkward when they're not there, it's because they're your best friend."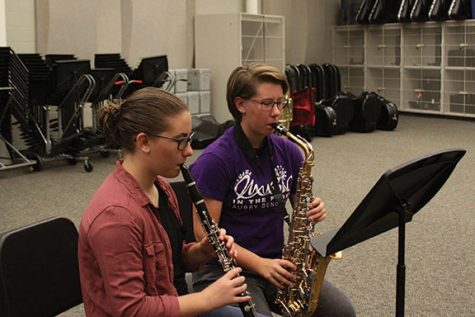 ---
Seniors Brittany and Megan Meckler said they share everything from clothes to their friend group.
"She's always been there for me," Megan said. "We literally do everything together…so it's weird if I go long periods without her."
Megan said she enjoys being a twin because they are best friends, and she likes sharing everything with Brittany, especially their birthday. She said they also share many personality traits, such as being funny, sweet, and generous, but they are by no means the same person.
"I have to have some days where I just stay home and relax, and just be in pajamas, and other days I go outside and hang out with my friends and stuff," Megan said. "Brittany has to be constantly busy all the time, and I'm not like that."
Megan said it can be frustrating when people assume they are the same person, as that is how the media often portrays twins, and this is not true in real life.
"The biggest misconception about twins is that we're the exact same people and we're not." Megan said. "We obviously have similar personalities but we are very different and all my friends will say we're very different."
In tv shows or movies, Megan said twins tend to be comical, overdone, and cheesy, making fights dramatic, but in real life, their relationship is more like best friends.
"A lot of them say the same things and dress completely alike and are clones of each other, but twins — we're separate people — and movies make them look like the exact same person." Brittany said. "The one thing that's not really great about having a twin is nobody knows who I am a lot of the time, if I'm Megan or Brittany. I understand that, but, it's also pretty annoying."
This confusion is quite common for them, Brittany said. However, their similarities were not enough to keep them from being discovered when they attempted to switch places on April Fool's day in sixth grade. Megan said another drawback is financially, it could be a setback for their parents to pay for college for both of them at the same time, but besides that she loves having a twin and the strong relationship they share.
"I feel like Megan and I, we have much more of a deeper connection," Brittany said. "Since we're the same age, we understand what each other is going through, so we relate to each other better."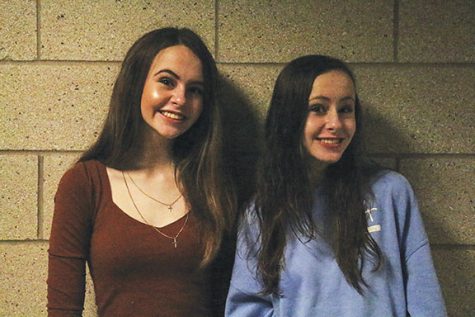 ---
Junior Zac Palecki said the connection he has with twin Jack is much more than a normal sibling. Since they are the same age, he said it helps to see a different perspective when going through the same things.
"He may see something differently than I do and it may help me," Zac said. "[It helps with] school work, and having somebody to talk to most times."
Other times, Zac said their interests outside of football and a shared love for the outdoors are contrasting.
"He likes to do performance arts, and I like to do photo editing and that kind of stuff," Zac said. "He likes to do the performing aspect and I like to do the behind the scenes."
Because of these different interests, Zac said he does not see them going to the same college but thinks they will end up close to each other. Besides different interests, he said their personalities are what they are told are the most different; however, they are still often confused for one another.
"It's pretty hard to tell the difference if you don't know him or me," Zac said. "I think we look a little bit different. He seems like he's taller when we're right next to each other, but it's just really small stuff."
Zac said people confusing them is really the only downside to having a twin, and that he doesn't mind sharing most things, including a birthday.
"I think it makes it better," Zac said. "Having the same birthday is kind of cool. It's a weird connection. It's something you don't have if it's just your brother."