Q & A with sophomore Rachel Taylor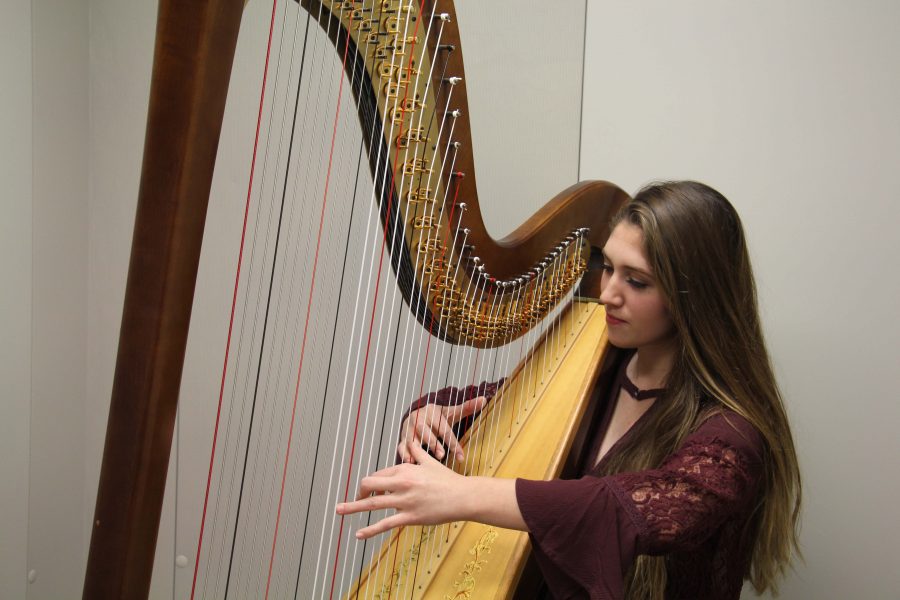 Q: How long have you played the harp?
A: I've played for four years.
Q: How did you become interested in learning the harp?
A: When I was younger, I always listened to my cousin play, and she would play harp. She lived in California, so anytime we went and visited her, I would always listen. I just fell in love with the harp, and ever since then I've always wanted to play it. Finally, I got the chance to, and I've loved it. It's the best decision I've made.
Q: What is your favorite type of music/favorite song to play?
A: I really like Debussy's music, for example his song "The Maid with the Flaxen Hair" is a really fun one for me to play because I can slow down and connect with the music. I really enjoy it; it's fun.
Q: What misconceptions do people have about playing the harp?
A: I find that people think we play with our fingernails, but we actually don't. It's just our fingertips. We build up a lot of calluses. I think people are surprised I lean it back on my shoulder, and also, they forget I have seven pedals that I have to deal with as well.
Q: Are there any negatives to playing the harp?
A: I think tuning is the biggest thing for me that I don't enjoy. You have to tune every string. It's very time consuming but in the end it's worth it because you get the best sound.
Q: How is playing the harp different from playing other instruments?
A: I think it takes a different type of motivation and devotion of your time and commitment of your time to really sit down and practice. The first year is when you really nail that muscle memory and your technique. From then, you advance your skills. I wouldn't know, I don't play other instruments, but from what I perceive a lot more practice. You play, pretty much, with your whole body. You use your posture, your legs, your arms; every moment has a purpose.
Q: What events have you performed at? Which was your favorite event and why?
A: I've performed a bunch, whether it's solos or competition or with an ensemble. I think when I performed my solo for the band last year; that was a lot of fun. It was good to show you guys actually what I do and what I can play, so that was really fun. The other time was in seventh or eighth grade I played with the orchestra at Aubry Bend, and we went to St. Louis, and we nailed it. We swept the competition, and it was amazing.
Q: Do your future career plans involve the harp?
A: I haven't decided that yet. I'm just going to see where it takes me. I'm planning on, right now, at least playing a little bit in college, whether it's just solo or with a group. I'm also interested in teaching the harp as well.
Q: Do you listen to a lot of harp music?
A: I do, not a lot I would say, but enough to spark some interest. I find it enjoyable. It's good to listen and find other songs for me to play, too.
Q: Do you play with other harpists?
A: I do. I've played a few duets with some girls, and that was really fun. It's really different because you practice on your own, then you come together and practice, and then, you get your timing down. I've also played with a flute as well.
Q: What's the best part about playing the harp?
A: The best part about playing the harp is being able to express yourself and put your soul and whole heart into your music. I think, just performing and seeing how I can impact people's lives and how I can entertain them. It's been very fun.