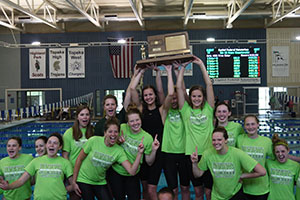 Editor's note: I am the proud sister of the source Megan Becker. I have supported her and Southwest throughout Megan's high school swimming career.  Even through my moans and groans, I have gone to many swim  meets. I have to admit, a special part of me still loves cheering on my sister and the team through swimming and I will really miss watching her after she graduates. 
Seventeen. Seventeen girls that put their heart into the team that they love. Seventeen girls with perseverance and commitment. Seventeen girls that may be swimming competitively for their last time. Seventeen girls that have lead their school to their first athletic state title. Out of thirty one swimmers at Southwest, seventeen are seniors.
"At first I thought that we would have like 10 seniors on the team which was a lot," senior swimmer Megan Becker said. "And then we got the actual count that it was 17 and it was just like wow…I couldn't believe it."
The swim is made up of 54 percent swimmers. It's not often that something like this happens, especially for a school that has just opened three years ago. Arvel McElroy is the coach of the girls swim team. He has coached girl's swimming for 34 years and has never coached this many seniors before.
"You never see a team with this many seniors," McElroy said. "It rarely happens."
The sheer number of seniors have had a big impact on the girls swim team. Many of the girls on the team have swam for three or four years in high school which gives the team a lot of experience.In the 2012 Girls 5A State Swim Meet the girls placed 3rd out of 30 teams.  The girls' experience has allowed them to improve their times quicker in practice for their goal of State.
"I think that having so many seniors will help us at State this year just because we have been swimming with each other for so long and this has been a goal that we've been looking forward to." Becker said.
In fact, the seniors' goal became reality as the took 1st place in the 2013 Girls 5A State Swim Meet. This is the first athletic state championship that Blue Valley Southwest has ever won. At least one swimmer from Southwest placed in the top eight places for 10 out of 11 events while placing 1st in five events. The Southwest 200 Medley Relay broke the Kansas state record during prelims with a time of 1:48.39. The relay team consisted of seniors Anna Rasmussen, Hannah Angell and Megan Becker and sophomore Sydney Angell.  Senior Hannah Angell also broke the Kansas state record in the finals for the 100 Backstroke with a time of 55.58. The hard work and talent of the team lead by the 17 seniors had allowed them to reach their dream.
The seniors have imposed their dream onto the underclassmen. After this year, the underclassmen will have to take on the leadership that the seniors have provided this year. After the seniors, the team mostly consists of freshmen. There are 10 freshmen on the team that take note of the seniors' leadership.
"They [the seniors] have been someone to look up to and they have supported me through all my races," freshman swimmer Maddie Allen said. "I've really enjoyed all the fun and sassiness that they bring to practice."
Although practice is typically dreaded by athletes, the seniors have made swim practice a fun atmosphere for many of the swimmers.
"I'm loving that there are so many seniors," senior Anna Rasmussen said. "It just makes you want to come to practice because your friends will be there too."
Rasmussen has swam for competitive swim teams since she was eight years old. She swims the 100 backstroke, 100 breaststroke and 100 fly.
"It's a lot more competitive and you have to try harder in practice," Rasmussen said. "It's so much fun, though."
Girls swim season is during the spring, which happens to be a busy time for all seniors with graduation and the ending of the school year. With so much occurring during the spring for seniors, there were a few scheduling struggles for the team of mostly seniors. They had to manage going to practice along with making the most of their high school experience.
"I think with balancing so many different activities in the spring it's important to focus on what you're doing at that time," Becker said. "So while you're at practice, focus on practice. Don't think about what you have to do after that."
The seniors have built a strong relationship with each other to make their team successful. Their support system and chemistry has helped them to improve and truly be a team.
"Between meets and long practices, you're with each other all the time," Becker said. "When things are getting tough in practice, you really get to know each other on a different kind of level and just have fun with each other."