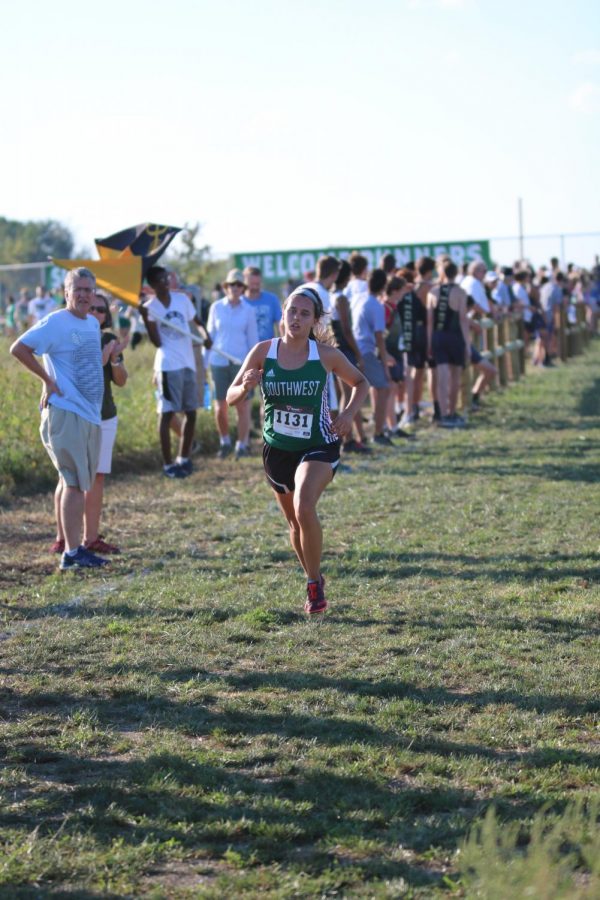 At the beginning of practice the Cross Country team heads out, behind the soccer fields, to warm up on the new cross country course. The course takes runners over hills, through fields, behind the school, and all the way over to the middle school.
Coach Aaron Ballew helped host the recent EKL meet and had fun representing Southwest. He said he was excited for other schools like Mill Valley, St. Thomas Aquinas, Blue Valley West, and St. James to experience the new course. Many of the Southwest runners placed in the top 20 including Gigi Loffredo, Mitch Sailer, McKenna Polus, and Christian Buehler.
"We hosted regionals last year and we hosted EKL this year," Ballew said. "I would love to [host] one of those two meets each year. I'm interested in hosting a bigger regular season meet. I would love to host something each year to get some big names out there."
There are a lot of different courses that the cross country team runs on and both Ballew and Hjelmaas agreed that Rim Rock in Lawrence, Kansas is the best quality course. It is also the course that the team measures all other courses to, including our own.
Sarah Hjelmaas is an avid runner who has been running since 7th grade and when asked about the new course she said "I think having our own personal course is super beneficial for the runners. Like any course, it presents challenges such as mud, no shade, hills, and uneven footing, but all of these things only make us better."
The new course is creating amazing opportunities for runners now and will continue to create opportunities for all the runners to come.