Foreign Exchange Student Natalia Komornikova Gets Involved Through Cross Country And Swimming
Hang on for a minute...we're trying to find some more stories you might like.
Every new school year brings with it new and different faces to the halls. Since the school's inception, students from 11 different and unique nations have transferred for the opportunity to challenge their foreign language skills.
This year, foreign exchange student, 18-year-old senior Natalia Komornikova, joined the halls from the eastern European nation of Slovakia. Komornikova said she decided to come to the United States to improve her English, which is a key component of school in Slovakia.
"In Slovakia, we start learning English in the first grade. So I've been learning English for 12 years," Komornikova said.
Komornikova said one of the main reasons she decided to become a foreign exchange student was the profound foreign exchange experience of one of her role models.
"My sister was (an) exchange student two years ago, and she really liked it, and she improved in English, and it helped her with college and stuff," Komornikova said. "I want to be like her."
As a result, Komornikova is following a similar path to her older sister when it comes to her foreign exchange experience.
"I'm living with a host family, which was also my sister's host family; they're really nice people," Komornikova said.
Although Komornikova said her transition was relatively smooth, she said it still took her some time to adjust academically, although she said she fared just as well.
"It was hard at the beginning, but when you get used to talking in English and listening to English all the time — it's not hard anymore," Komornikova said.
However, there are differences in the educational system in America compared to Slovakia.
"First of all, in Slovakia, we cannot choose classes, we have them set," Komornikova said. "All the students have to take physics and chemistry and biology. So it's much more complex, and we choose classes only the last two years of high school, and we get to choose only subjects that we want to study in college."
Socially, Komornikova said she quickly adapted because of her participation in the community through school sports such as cross country in the fall and swim in the spring.
"Without all the school sports, I wouldn't probably have any friends because I did cross country at the beginning of the school year, and I have most of my friends from there," Komornikova said.
Junior Ashley Schuler said she's known Komornikova since the very beginning of the school year, and the two's friendship developed in part because of Komornikova's participation in swim.
"I've known her since the beginning of the school year because she swam on my club team," Schuler said.
Komornikova has been swimming competitively for 10 years and is on a club team back home in Slovakia and was on another club swim team in Kansas before the school swim season started. However, she said she really likes the change in pace of the school swim team compared to her club team back home and her club team abroad.
"I like it because the school swim team is different than club swimming, because it's not that hard and we have more time to talk to each other, so it's more fun," Komornikova said.
Through all that swimming, Komornikova has developed a favorite stroke for competition and leisure.
"My favorite stroke to swim is probably breaststroke, which I'm also best at, but I don't like swimming a lot of breaststroke," Komornikova said. "I like swimming
medley in practice, because I don't like swimming the same stroke all the time."
When in comes to Komornikova's methodologies and philosophy in practice, Schuler said Komornikova is a positive influence.
"She's really sweet, she's hilarious, and she always makes jokes about being from Slovakia," Schuler said. "But yeah, she's just really fun to be around."
Math teacher and head swim coach Jillianne Bellville said she is delighted to have a girl like Komornikova on her swim team.
"You can always see the girls have a positive attitude around her," Bellville said. "She's always, bringing her teammates up, and motivating them in a positive way. She just seems to know how to have a good time, and when to have a good time. It's just a positive vibe that she brings to the whole team."
When Komornikova isn't joking around, Schuler said Komornikova is constantly working hard and motivating her teammates to do their best in the pool.
"She always works really hard," Schuler said. "She yells at me whenever I try to skip sets, [and] she always yells at me when I'm going slow."
Currently, Komornikova's best breaststroke time is 1:06 and the school record looms within her reach at a 1:04.89, which was set by Sydney Angell in 2013.
"Natalia's at a 1:06, the school record is at a 1:04. So, I could see [breaking the record] happening , but it would take a lot of work and just hitting every wall perfectly, hitting that start perfectly, and just digging," Bellville said.
However, whether Komornikova breaks the record or not, her time rivals even the boys swim team's best breaststroke time.
"Her best time right now that she's gotten was with the club team," Bellville said. "That was early this season, she got a 1:06. Our fastest time on the boys team was also a 1:06 this year and that was at state."
Bellville said she is thrilled to have Komornikova not only as a swimmer onher team but also sees her as a well-rounded individual.
"Other teachers have said that they just love Natalia and that she's a hard worker in class and that she gets everything done, and is just an all around good student," Bellville said. "I think that's really important, when you're a student athlete, to be a very good student, as well as being a really awesome athlete, it just brings a lot to our school and community."
Schuler said Komornikova is a senior leader on the team, not just based on her sweeping and vital force as a swimmer, but based on her character in the same facets Bellville described.
"I mean, she's fast, obviously, but she just brings up the team I feel like and whenever someone's upset, she always tries to help them when they do bad in the race and stuff," Schuler said.
However, as the school year winds down, so does the spring sports season, which includes girls swim. Before returning to Slovakia, Komornikova said she plans on putting her full effort forth into her swimming, while having some fun along the way.
"I think this is going to be my last year swimming, so I want to enjoy it and get some good times," Komornikova said.
The varsity league meet is set for May 3 and May 4, and swim state is May 17, which Komornikova qualified for earlier this season.
Something unique about Komornikova is the fact that she will be attending high school again next year. As the seniors graduate and move on to college and the workforce, Komornikova will return to Slovakia. There, she will complete high school and graduate in 2020, even though she is graduating from high school in America this year.
"Back in Slovakia, we don't have 12 years of school, we have 13," ." Komornikova said. "So after I graduate here, I'll have to finish my last year in Slovakia."
This is a direct contrast to Natalia's sister who was able to graduate and attend college directly after high school.
"She got the diploma and she didn't have to (finish her last school year in Slovakia), so now, she's in college," Komornikova said. "It's her second year. But me, I won't get the diploma because they won't let me."
Komornikova said the reason her older sister got to graduate in Slovakia after being a foreign exchange student and the reason why she doesn't has in part to due with the differences in the schooling system.
"It's complicated to translate and transition all the grades and stuff, and we have big tests in Slovakia at the end of high school, from four years of high school, which we all have to do, but she was special, I don't know why I am not," Komornikova said.
However, Komornikova said she is already planning for her future after high school. After Komornikova graduates in Slovakia, she said she wants to follow in her older sister's footsteps and attend college in England or Scotland — bringing her proficient foreign language skills with her.
"Maybe I want to go to England or Scotland because like now, in the world, in Europe, you cannot get [a] good job without knowing English. So studying English is much more useful for everyone in Europe now than studying in Slavic," Komornikova said.

About the Writer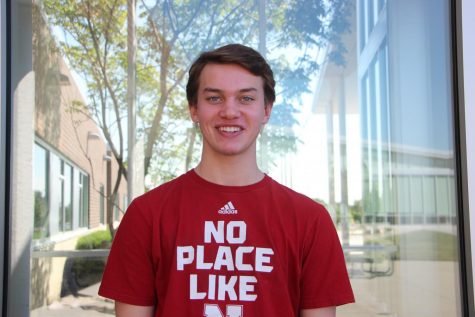 Luke Hottovy, staff writer


Luke Hottovy | staff writer